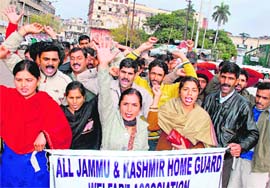 Members of the All-Jammu and Kashmir Home Guards Welfare Association protest in support of their demands in Jammu on Wednesday. Photo: Inderjeet Singh
Samiti to fight for delimitation of constituencies
Jammu, December 7
The Amarnath Yatra Sangharsh Samiti, which spearheaded the Amarnath land agitation, now plans to play a major role in Jammu's fight for delimitation of Assembly constituencies. With the NC coming to power, the fight for delimitation will not be easy as it was the NC regime under which the delimitation freezed till 2026.
Jammu-Srinagar highway closed
Over 1,000 vehicles stranded
Udhamupur, January 7
Due to closure of the 300-km Jammu-Srinagar National Highway, over 1,000 vehicles, including some passenger buses and private cars, remained stranded on the Banihal-Udhampur road.
Paharis urge Omar to make Jan minister
Jammu, January 7
The Pahari Welfare Forum (PWF) has demanded that NC legislator from Poonch-Haveli Aijaz Ahmed Jan be inducted in the state Cabinet to give representation to the Paharis living in backward and border regions of Poonch and Rajouri.
Delay in oath to MLAs rued
Jammu, January 7
The leader of the Panthers legislature party, Harsh Dev Singh, has questioned the "undue and inordinate delay" in administering oath to the newly elected MLAs.
GM Shah laid to rest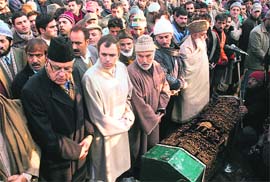 Srinagar, January 7
Former Chief Minister GM Shah, who passed away yesterday, was laid to rest with full State honours here today. The Nimaz-e-janaza was offered at Polo Ground in which a large number of people, including Chief Minister Omar Abdullah and former Chief Minister Farooq Abdullah, participated.
Chief Minister Omar Abdullah and NC patron Farooq Abdullah join others at the funeral prayers for former Chief Minister GM Shah in Srinagar on Wednesday. Tribune photo: Amin War

Submit Vijaypur poll record: HC
Jammu, January 7
Justice Hakim Imtiyaz Hussain of the Jammu and Kashmir High Court, while disposing of a petition filed by Chander Parkash Ganga, defeated BJP candidate from Vijaypur, today directed the state chief electoral officer and the returning officer (DC), Samba, to furnish the record or supply attested copies of documents mentioned in the petition within one week.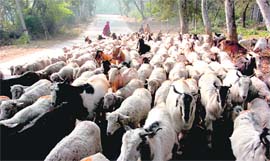 With winter tightening its grip, these Gujjar and Bakerwal nomads, on their way to Udhampur with their sheep, were photographed near Sambha. Tribune photo: Anand Sharma
Akhnoor emerges as power centre
Jammu, January 7
With the new NC-Congress coalition taking over reins of the government, border tehsil of Akhnoor has emerged as a power centre in the Jammu region, rekindling hopes of development and better infrastructure among people.
Army guards kill intruder
Srinagar, January 7
An intruder was shot dead by Army guards when he scaled the rear boundary wall of the residential compound of Commander, 31 Sub Area, on Gupkar Road here late last night.
Communities seek Cabinet slots
Jammu, January 7
With the 10-member Cabinet taking the oath of office and secrecy, various communities have started seeking representation in the government. Leading the list are Gujjars who are miffed with the Congress for not naming their veteran leader Mohammad Aslam from Surankote in Poonch as the state's Deputy Chief Minister.
Water supply affected as main pipe damaged
Srinagar, January 7
Water supply in a majority of areas in the down town and Sher-e-Khas (SeK) was disrupted since last evening after a main pipe from Rangil Water Supply Scheme (WSS) was damaged.
Leopards on the prowl in Udhampur
Ramnagar (Udhampur), January 7
For the past two months, fear-stricken residents of about 12 villages have been visiting the Wildlife Department to get leopards prowling in the area entrapped, but the department authorities seem to be unconcerned toward their problem.
Students return after 13-day tour
Jammu, January 7
The Army today received 30 students, including 10 girls, of various schools on their return from a 13-day tour. The students was welcomed by Brig VS Saini, commander, Tiger Artillery Brigade, in a ceremony attended by the parents of the students and various military and civil dignitaries.
Drug de-addiction camp held at Kulgam
Srinagar, January 7
Drug addicts go to extent of using liver tonic meant for cattle in order to increase digestive power and have a sound sleep. These unusual observations came to limelight during a day-long de-addiction camp organised by a city-based de-addiction and rehabilitation centre at Buna-Devsar, Kulgam, 90 km from city centre. Chairman of the de-addiction centre Syed Shabir said, "Consumption of liver tonic is more prevalent among males while as females mostly consume tobacco and charas."
Three bodies found in Jammu
Jammu, January 7
The police today found three bodies in the Jammu region. According to the police, the body of Yog Raj was found in ward No. 13 in Bishnah under suspicious circumstances. The body has been shifted to the Bishnah sub-district hospital for a post-mortem.