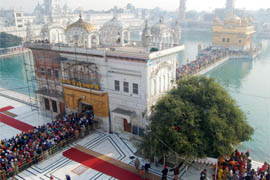 Devotees line up to pay obeisance at the Golden Temple during Maghi Festival in Amritsar on Tuesday. Photo: Vishal Kumar
Rightfully Ours
Residents give colony a facelift, want MC help to fix the rest
Amritsar, January 13
Shaheed Madan Lal Dhingra Colony is an epitome of sea-change brought over by the collective efforts of the resident-members of its Shaheed Madan Lal Dhingra Housing Welfare Society.
Go in for organic farming, says ex-Planning Board official
Amritsar, January 13
Former vice-chairman of the Punjab State Planning Board Dr S.S. Johl said owing to the excessive water pumping, the water balance is getting disturbed and depleted, resulting in the degradation of soil with excessive use of the fertilisers and pesticides.
MC's construction work halted
Amritsar, January 13
The market committee yesterday stopped the construction work which had been launched by the municipal corporation for setting up a weigh balance service centre for weighing solid waste close to the Bhagatawala grain market.