Israeli forces kill 12 Palestinian fighters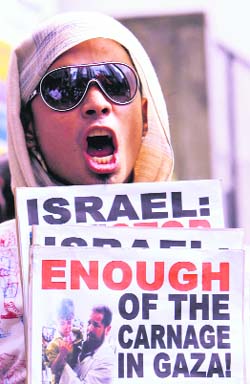 A peace activist shouts near the Israeli embassy in metro Manila on Tuesday, during a protest against Israel's attacks on Gaza. — Reuters
Gaza, January 13
Israeli forces tightened their hold on the outskirts of the city of Gaza today and Israel's top general said, "there is still work" ahead against Hamas in an 18-day-old offensive that has killed more than 900 Palestinians.
The sounds of explosions and heavy machine-gun fire echoed through the city of 5,00,000 after Israeli tanks drew nearer but did not enter its densely populated centre, local residents said.
Medical workers said 12 Palestinian gunmen, some of them members of the Hamas, were killed in the morning fighting.
Hamas said its forces detonated explosives beneath the Israeli armour and fought with its forces backed by helicopter, gunships and naval fire.
Israel aircraft attacked 60 targets, including tunnels used by Gaza militants to smuggle arms across the border from Egypt, weapons-making facilities and Hamas command posts, the military said.
Two rockets hit the Israeli city of Beersheba, causing no casualties.
"We have achieved a lot in hitting Hamas and its infrastructure, rule and armed wing, but there is still work ahead," Lieutenant-General Gabi Ashkenazi, chief of staff of Israel's armed forces, told a parliamentary committee.
"We are working to deepen the blow to its military arm, reduce (Hamas) fire, strengthen (Israeli) deterrence and improve the security situation for residents of southern Israel living under the threat of (rocket) attacks," he said.
Palestinian medical officials said at least 925 people in the Gaza Strip have been killed since Israel began its offensive on December 27. The health minister in Gaza's Hamas-run government said close to 400 of those were women and children.
Thirteen Israelis - 10 Israeli soldiers and three civilians hit by mortar bombs and rockets from the Gaza Strip - have been killed. — Reuters