Govt fails to provide facilities at Noori Chamb
Poonch, January 13
Tourists continue to throng Noori Chamb here, which is famous for its scenic beauty and waterfall. Despite this, the state government has failed to develop this place, which lacks even basic facilities.
Selfless Social Service

Dera Nangali Sahib shows the way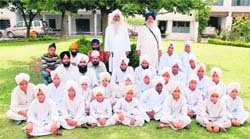 Jammu, January 13
The Dera Nangali Sahib of Poonch has set an example in selfless social service in the state. Established in the early eighteenth century in the frontier district of Poonch, the dera has contributed a lot to the socio and economic uplift of the underprivileged.

The incumbent of Dera Nangali Sahib, Mahant Manjeet Singh, along with the underprivileged children on the Ashram campus in Jammu. Tribune photo: Inder Jeet Singh

Nari Niketan, Bal Ashram inmates face difficulties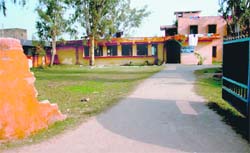 RS Pura, January 13
Inmates of the government-run Nari Niketan and Bal Ashram here, especially the adult orphan girls, have been precariously exposed to hostile environment. Both welfare houses have been operating from the same premises. Both welfare houses have been operating from the same premises.
The building that houses the Nari Niketan and the Bal Ashram in RS Pura. Tribune photo: Anand Sharma
'Kashmiri Pandits losing their mother tongue'
Jammu, January 13
Writer of a great repute and dubbed as "encyclopedia" on Kashmiri culture and poetry by many, octogenarian Arjun Dev Majboor has stressed on urgent measures to promote Kashmiri language among the Kashmiri Pandits, who have grown up in exile after their parents were displaced.
Human-animal conflict: Rising incidents raise concern
Srinagar, January 13
Over the years considerable increase in the incidents of wild animals straying into human habitations has been reported in the Kashmir valley, often leading to casualties to humans and such animals.
Dry vegetable packets' sale on rise in Jammu
Jammu, January 13
Despite the availability of the green, leafy and fresh vegetables in abundance round the year, the packets of dry vegetables are sold like hot cakes in Jammu markets these days.
Letter
Omar joins office on positive note
Chief Minister Omar Abdullah has begun his new innings in politics on a positive note. By making surprise visits to Lal Ded Hospital in Srinagar and SMGS Hospital in Jammu, the young CM has sent a clear message that he means business.