AISSF takes out justice awareness march
Takhtupura (Moga), January 14
The All India Sikh Students Federation (AISSF) in association with Sikhs for Justice, a US-based human rights advocacy group and many other local organisations carried out a justice awareness march beginning from Daulewala village passing through Moga and Badhni Kalan culminating at Takhtupura, where they held a public rally.
Punjab should not bear brunt of war, says Mann
Takhtupura (Moga), January 14
The president of Shiromani Akali Dal (Amritsar) Simranjit Singh Mann, while reiterating the demand for a free homeland for Sikhs, has given a new twist to the 'Sehajdari' issue by saying that "a true Sikh is one who believes in Khalistan'" He was talking to the media at the district headquarters before addressing a public gathering of his party here, today.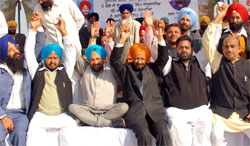 LBP, Left lash out at Cong
Takhtupura (Moga), January 14
The Lok Bhalai Party (LBP) and the Communist Party of India (CPI) also organized their political rallies here, today.



B.S. Ramuwalia, president of the Lok Bhalai Party, and other leaders of the organisation at Takhtupura in Moga on Wednesday. Tribune photo: Malkiat Singh
SAD-BJP panel formed
Bathinda, January 14
In view of repeated requests by SAD-BJP councillors, SAD (B) chief Sukhbir Badal has ordered formation of a six-member coordination committee to manage the affairs of the constituency. The development is being seen as marginalisation of Sarup Chand Singla, SAD (B) constituency in-charge.
Fresh report released with Mayor's nod
Bathinda, January 14
With the councillors standing firm, the bureaucrats of the Bathinda Municipal Corporation (BMC) finally had to backtrack and cancel the previously circulated proceeding report of the fourth general house meeting.A fresh report has now been prepared to pacify them this evening, it is learnt.
New PSEB chief for proper power supply
Mansa, January 14
In an attempt to streamline supply of electricity in the state, H.S. Brar, newly chairman of Punjab State Electricity Board (PSEB) assured that efforts would be made to ensure proper power supply in every corner of the state.
EGS teachers allege manhandling by cops
Bathinda, January 14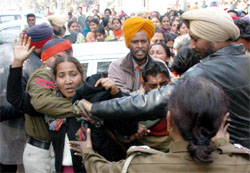 The situation took an ugly turn today when some agitating teachers of the Education Guarantee Scheme (EGS) started shouting slogans against the Punjab government in support of their demands when SAD president Sukhbir Singh Badal and Captain Kanwaljit Singh, Cooperatives Minister were present in the city to lay the foundation stone of the new building of the Bathinda Central Cooperative Bank here this morning.
Male police personnel rough up a female teacher of the Employment Guarantee Scheme (EGS) who were trying to gherao the SAD chief Sukhbir Singh Badal at Bathinda on Wednesday. Tribune photo: Kulbir Beera
Question mark over Bt brinjal
Bathinda, January 14
A fresh independent analysis of Mahyco's Bt Brinjal bio-safety data by a French scientist has proved that Bt brinjal is unsafe for human consumption, stated Umendra Dutt, executive director of the Kheti Virasat Mission that has launched a movement against the genetically engineered (GE) crops in Punjab.
Stone laid for co-op bank
Bathinda, January 14
Sukhbir Singh Badal, SAD president and MP, laid the foundation stone of the Bathinda Central Cooperative Bank building here today. Punjab Cooperatives Minister Captain Kanwaljit Singh, Jagdeep Singh Nakai, chief parliamentary secretary, Sikander Singh Maluka, district president, SAD, Sarup Singla, area in-charge, SAD, Charanji Lal Garg, former minister and Baljit Singh Bir Behman, Mayor, BMC, and other senior officers of various government departments were present on the occasion.
Prisoner flees from custody
Faridkot, January 14
A convict facing ten years of imprisonment in the district jail has reportedly fled from the police custody while undergoing treatment at the civil hospital here, probably on the intervening night of Monday and Tuesday.
Canal offical held on graft charges
Ferozepur, January 14
The Vigilance Bureau (VB) sleuths today apprehended Gurpratap, superintendent of mechanical drainage construction division, Canal Circle, Ferozepur, when he was allegedly accepting a bribe of Rs 2000 from the complainant, Kulwinder Singh, employed as electrician with division, for getting his case for promotion forwarded from executive engineer Ferozepur to executive engineer Giderbaha.
Thaw in chill
Bathinda, January 14
The vagaries of weather have been quite perceptible for the last two days. On Wednesday, the zone recorded one of the lowest temperatures of the season as 1.5 degree Celsius at 7 am while at 2.30 pm, the mercury climbed upto 21.6 degree, as per the Agro-MeT advisory services, PAU Regional Station, Bathinda.