Acquisition for Central varsity
80 families to lose land

Bathinda, January 10
At least 80 families would be rendered landless in Ghudda, the ancestral village of chief minister Parkash Singh Badal, where 529 acres of fertile land is being acquired for setting up a central university. The village is about 20 km from here on the road leading to Badal village.

Members of the action committee of village Ghudda, who are protesting against land acquisition for Central University. Tribune photo: Kulbir Beera
Sewage problem solved
Abohar, January 10
Round the clock efforts made by the Punjab Water Supply and Sewerage Board finally resulted in bringing the sewage water accumulation crisis to an end today morning.
Nursing students welcomed
Moga, January 10
Students of Dr Shyam Lal Thapar College of Nursing organised a welcome party for the new batch of M.Sc. Nursing, B.Sc. Nursing and Post B.Sc. Nursing Course along with GNM and ANM courses on the college premises here, today.
EGS teachers stage protest, burn CM's effigy
Bathinda, January 10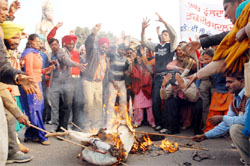 Criticising the SAD-BJP government for not fulfilling the promise it made to them for arranging diplomas in education and then regularising their services, hundreds of activists of the Education Guarantee Scheme (EGS) Teachers' Union burnt an effigy of chief minister Parkash Singh Badal here today. Later, they sat on an indefinite dharna outside the mini-secretariat.
Protesting members of the EGS Teachers' Union burning an effigy of chief minister Parkash Singh Badal in Bathinda on Saturday. Tribune photo: Malkiat Singh
Truckers, govt continue to disagree
Bathinda, January 10
The stalemate between the government and truckers continued for the sixth day here today despite the arrest of two top leaders of the All-India Motor Transport Congress (AIMTC).
PRTC staff hold gate rally
Bathinda, January 10
Members of the Contract PRTC Workers' Union (Azad) held a rally outside the PRTC workshop gate here today. They were protesting against the cut imposed on their salary in the garb of service tax.
Minimum temp shoots up
Bathinda, January 10
After hovering around 2.5 degree Celsius for the last four days, the mercury shot up here today as activated western disturbances approaching Punjab and the adjoining region influenced the weather conditions in the zone.
Know India symposium starts
Fazilka, January 10
The Bharat Vikas Parishad, (BVP) Fazilka, organised 8th All India Bharat Ko Jano (Know India) symposium here today. The symposium has been dedicated to commemorate the martyrs of the Indian army of 1971 Indo-Pak war in Fazilka sector.
Ghuriana is chief of PU Committee
Abohar, January 10
Balluana MLA Gurtej Singh Ghuriana has been nominated as the chairman of the Public Undertaking Committee of Punjab Vidhan Sabha, according to a fax message received here from the Speaker Nirmal Singh Kahlon today. Ghuriana had earlier been nominated as member of the Public Accounts Committee and SC Welfare Committee of the Assembly. — OC