Begins cleanliness drive, removes his posters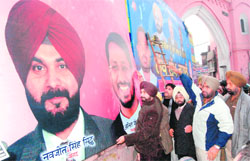 Amritsar, January 10
Just a couple of days after raising the issue of huge hoardings put up in blatant violations on high-rise buildings around the Golden Temple, BJP MP Navjot Singh Sidhu today removed the hoardings with his pictures installed by his party outside the Hall Gate area here today.



BJP MP Navjot Singh Sidhu removes hoardings with his pictures in Amritsar on Saturday. Photo: Vishal Kumar



Review PCS appointments: Khaira
Chandigarh, January 10
Congress MLA from Bholath Sukhpal Singh Khaira has urged the state government to appoint a high-powered committee under the chairmanship of the chief secretary to review and make afresh the recommendations for appointment to the Punjab Civil Services.
Sukhbir promises sops to ginning mills facing closure
Bathinda, January 10
Sukhbir Singh Badal, president, Shiromani Akali Dal, today said the government would provide uninterrupted electric supply to the ginning mills to benefit cotton growers of the Malwa region. He told reporters here that more incentives to the ginning mills facing closure would be considered.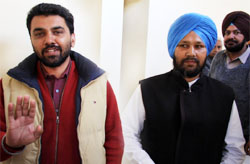 CBI witness meets SAD chief
Bathinda, January 10
In an interesting development, Khatta Singh, key CBI witness in the high-profile murder and rape case against Dera Sacha Sauda chief Gurmeet Ram Rahim, met SAD president Sukhbir Singh Badal here today.
Khattar Singh (right), a key CBI witness in the cases against the Dera Sacha Sauda chief, along with his son Gurdas Singh, before meeting Sukhbir Singh Badal, president, SAD (B), in Bathinda on Saturday. Tribune photo: Kulbir Beera



City Centre Scam
Cong was paid Rs 55 lakh: VB
Ludhiana, January 10
Today Homes Company had paid Rs 55 lakh to the All-India Congress Committee (AICC) in two instalments for seeking ''undue favours'' in the City Centre project.This was stated by the Vigilance Bureau (VB) in the court of Sessions Judge GK Rai during the hearing of the City Centre scam case here today.
RTI Act
Pbi varsity defaces documents
Chandigarh, January 10
For every provision in the Right To Information Act (RTI), public offices of Punjab seem to have a counter "provision". In what was seemingly a bizarre attempt to hide information, the Punjabi University, Patiala, allegedly handed over thousands of pages to a Chandigarh-based lawyer with the relevant information on these "defaced" with permanent ink.
Inside Babudom
Maini likely to get Mining
Chandigarh, January 10
As officers belonging to the early '70s batches are heading for superannuation, some of the lucky ones may also get important assignments to cap their otherwise outstanding careers in civil services on a cheerful note.
51 couples having only daughters honoured
Sangrur, January 10
With a view to promote the birth of the girl child and pay respect to those couples who have only one or more than one daughters, the local Nagrik Abhinandan Manch, a platform of 52 organisations of the town, today not only celebrated Lohri with 51 such couples, but also honoured them with shawls and mementos at a Lohri Dhian Di 2009 (Daughters' Lohri) function organised at the district administrative complex here.
Ex-minister seeks interest
Chandigarh, January 10
Former Punjab Minister and senior Congress leader Jagmohan Singh Kang today flayed the Akali-BJP government for non-disbursal of long pending sugarcane payments pertaining to Morinda Sugar Mill and other mills in the state and urged the government to pay interest on it to safeguard the interest of innocent farmers, otherwise the Congress would be forced to launch an agitation.
Panel to probe PTU paper leak
Jalandhar, January 10
Punjab Technical University (PTU) today formed a three-member committee to verify reports of leak of mathematics question paper of the third semester of BTech course yesterday. The PTU registrar in a statement said the copy of the question paper had been procured from a TV channel that had telecast a news on the leak.