Cases of Encroachment
10 Noida firms, 4000 persons blacklisted
Noida, January 10
Ten companies and 4,000 individuals in the city have been blacklisted by the Noida Authority for illegal activities. People have been accused of encroachment around their houses, companies and offices, thereby creating obstacles in public services.
Petrol pumps back at work, but truckers refuse to budge
New Delhi, January 10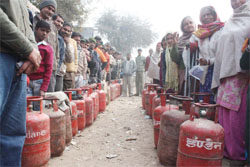 The day came as a breather for commuters in Delhi as most petrol pumps came to normalcy by afternoon. The government has refused to give in to the strikers' demands. But, it has decided to constitute a committee to review their grievances within 30 days.

People stand in long queues for LPG gas cylinders in Gurgaon on Saturday. The city is facing shortage of LPG gas because of the ongoing nationwide strike called by transport operators. Tribune photo: Rajesh Kumar Yadav
RS panel flays ministry's role in AIIMS
New Delhi, January 10
The All India Institute of Medical Sciences (AIIMS) regulations formulated in 1999 contain multiple ambiguities, especially pertaining to the overbearing power delegated to the twin capacities of the president of the institute and chairman of the governing council.
MCD to adopt medi-claim policy for staff, families
New Delhi, January 10
The Municipal Corporation of Delhi (MCD) will adopt medi-claim policy for its employees, pensioners, family pensioners, councillors and ex-councillors with their families.
Woman, two sons found murdered
New Delhi, January 10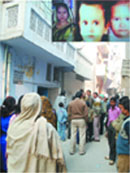 A woman, along with her two minor sons, was found dead in their home in Uttam Nagar area of South West Delhi last night. Seema (34) a housewife, her sons Kunal (7) and Nishant (4) were found lying in a pool of blood by Seema's husband Hem Chand around 10 pm in their B Block residence of Bindapur. The police believes that a sharp-edged weapon like knife or meat cutter has been used to kill the three.



People gather outside the house of Hemchand whose wife and two sons (inset) were found murdered in New Delhi on Saturday. Tribune photo
Rs 10,000 award for arrest of gangrape accused
Noida, January 10
Inspector-general of police, Meerut Zone, Gurbachan Lal has announced that gangrape accused will be booked under the Gangster Act.
Rape attempt foiled
Cops broker agreement
Noida, January 10
A rape attempt was made on a young girl in Noida's Sector 16 on Thursday.
2 drunken youths held
New Delhi, January 10
The Central Industrial Security force (CISF) personnel responsible for the security of Indira Gandhi International Airport (IGIA) today detained two youths in an inebriated condition after firing at least three rounds on their car.
BJP criticises govt on truckers' strike
New Delhi, January 10
BJP Delhi Pradesh president Om Prakash Kohli today criticized the central government for its handling of the truckers' strike and said that imposition of ESMA hints at its antagonistic approach towards the people.
Cop's son shot over property dispute
Ghaziabad, January 10
The son of a Delhi police officer was shot dead at the Vijay Nagar locality here, the police said on Saturday.
Suicide by woman
Gurgaon, January 10
A woman killed herself by consuming some poisonous substance here today. According to the police, Frida, a resident of Sondh village in Tawaru, had a fight with her husband Rafik after which she ate something poisonous. The civil hospital referred her to Delhi, but she died on the way. — TNS
Institute holds sports meet
New Delhi, January 10
Kamal Institute of Higher Education and Advance Technology affiliated to Guru Nanak Dev University today held its 6th annual athletic sports meet.
Ghaziabad SSP transferred
Ghaziabad, January 10
Ghaziabad senior superintendent of police L. Ravi Kumar has been transferred to Gazipur, an official said Saturday. He was in the post for just four months. Brij Raj Meena will replace Kumar here, a state home ministry Official in Lucknow said. — IANS