Constable held for cheating
He first sold his car and then claimed that it has been stolen so that he could extract insurance money
New Delhi, December 31
A constable posted with the crime branch of the Delhi police has been arrested for first selling his car and then lodging an FIR saying that the car has been stolen so that he could extract money from the insurance company.
New Year cheers for less fortunate kids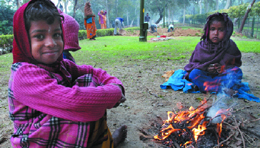 New Delhi, December 31
Leaving behind, at least for a day,
the repression and tribulations associated
with their lives, around 550 young
underprivileged children today gathered
at Sain Bhagat Park in Sultanpuri looking
forward to a hopeful New Year with Ujala
2009, a New Year event organised by
NGOs working for the rights of children.

What's New Year? For the less fortunate kids, life goes on as usual as their parents work in the backdrop. Tribune photo: Manas Ranjan Bhui

BSNL customers to get relief from hefty cable bills
Interactive TV service launched
Gurgaon, December 31
City residents can now heave a sigh of relief, as they will soon get rid of paying huge bills to cable operators.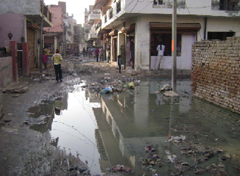 Despite tall claims of the Gurgaon Municipal Corporation many areas of the city like Hari Nagar resemble a drain. Tribune photo: Sayeed Ahmed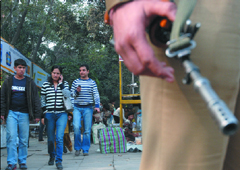 NEW YEAR EVE

Security

: A CRPF jawan keeps a vigil at CP in view of the New Year celebrations in New Delhi on Wednesday. Tribune photo: Manas Ranjan Bhui
Software company booked
for cheating
Gurgaon, December 31
A case of deception has been registered against a software company situated in Udyog Vihar here today.
Last day of concessional stamp duty rate
Property owners rush to registry
Noida, December 31
An unprecedented rush was noticed at the registry offices in Noida and Greater Noida till 12 pm today as property owners had queued up to avail concessional stamp duty rate.
Man attacks conductor, drives
away with bus
Noida, December 31
A man allegedly attacked a bus conductor and made off with the vehicle here early today. The hijacker was reported to have been a bus conductor earlier, but had lost his job recently.
Criminals target women the most
Noida, December 31
Crime incidences, particularly those involving women, in this satellite town adjoining the national Capital kept the police on toes throughout the year.
Andhra youth held with heroin
Noida, December 31
A youth from Andhra Pradesh, Shiva, was arrested here with heroin worth Rs 1 lakh. However, he could not be interrogated properly as he could just speak Telugu.
Bikers rob two men of Rs 2.2 m
Ghaziabad, December 31
A man and his son were today robbed of their bag containing Rs 2.2 million (Rs 22 lakh) by three unidentified motorcycle-borne attackers here.
CDS results out
New Delhi, December 31
The Union Public Service Commission (UPSC) recently declared the results of Combined Defence Services (CDS)-II examination, 2008. Some 8,276 candidates have been selected for being interviewed by the Service Selection Board (SSB) of the defence ministry for admission to the IMA, Dehradun, Naval Academy, Goa; Air Force Academy, Hyderabad and OTA, Chennai for men and women. — TNS
Ads at bus shelters fetch Rs 1,500 cr
New Delhi, December 31
Bus shelters constructed by the last government have proved to be a source of revenue for the transport department of the Delhi government.
Josh felicitated
New Delhi, December 31
Harcharan Singh Josh, a prominent leader and member of the National Minorities Commission, was felicitated today.
Fill hospital vacancies, says Sheila
New Delhi, December 31
Delhi Chief Minister Sheila Dikshit today directed officials to expedite recruitment of medical and paramedical personnel to overcome their shortage as she reviewed the functioning of the health and family welfare department.
Sans fog, Delhi readies for a clear New Year
New Delhi, December 31
It's a perfect adieu to 2008. No thick fog to delay your flight and spoil your New Year Eve's plans, just clear skies and the familiar chill of a Delhi winter that makes the prospect of an open air party with a bonfire seem exciting.
MCD plans to keep record of beggars
New Delhi, December 31
The Municipal Corporation of Delhi (MCD) has finally woken up to the problem of beggars in the Capital.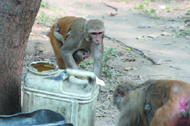 Yearender
MCD fails to tackle parking blues,
monkey menace yet again
New Delhi, December 31
As 2008 comes to an end, the Municipal
Corporation of Delhi (MCD) seems to be is
far behind on achievement fronts.
Tribune photo: Manas Ranjan Bhui