Online diploma in legal process outsourcing
New Delhi, December 25
The online PG diploma in legal process outsourcing (PGDLPO) was recently launched jointly by Indira Gandhi National Open University (IGNOU) and Rainmaker, India's leading legal training and talent management organisation. Law graduates as well as final year law students can apply to this one year PG diploma.




Merry Xmas: A vendor in a Santa mask doing brisk business on Christmas at Connaught Place. Police personal keep vigil at the Sacred Heart Cathedral. A family celebrates Christmas by lighting candles in Gurgaon on Thursday. Tribune photos: Manas Ranjan Bhui and Sayeed Ahmed

Student stabbed in school clash
Ghaziabad, December 25
In a clash between a group of outsider miscreants and some students of Dehradun Public School, Rajnagar, Ghaziabad yesterday afternoon, a class XI student was stabbed multiple times in the abdomen.
100 CCTVs to monitor R-Day parade
New Delhi, December 25
The Republic Day parade on January 26 would be conducted under unprecedented security this time. The Delhi police will install 100 CCTVs on the route of the parade in the national capital in order to keep a watch on the movement of people not just on the Republic Day, but about a week ahead of the event.
Walia to meet officials, Reddy
New Delhi, December 25
Delhi urban development minister A. K. Walia will meet union urban development minister Jaipal Reddy to find a solution to the issue of sealing and demolition that is haunting city traders. The Delhi Laws (Special Prevention) Act 2008 which was formulated to defer the sealing and demolition is effective only till December 31.
Roads to be built with demolition waste
New Delhi, December 25
Construction and demolition waste will now be used for the construction of roads and pavements in the Capital.
Minor gets 3-yr jail for killing colleague
New Delhi, January 25
The Juvenile Justice Board in New Delhi sentenced a minor to three years of imprisonment for murdering a colleague out of jealousy and hatred about five years ago.
Blueline kills scooterist
New Delhi, December 25
A 30-year-old man was crushed to death by a Blueline bus near Mangol Puri last night while returning home from work. The deceased Nand Kishore, a resident of the Nangloi area in North West Delhi, was travelling on a scooter when he was hit from behind by the bus, plying on route number 808 between Tilak Nagar and Mangol Puri. "The accident took place at around 8.30 pm on Wednesday. We took him to the nearby hospital but he succumbed to his injuries," a police officer said. He also informed that the driver of the bus, Raj Kumar, has been arrested.
MLAs to be trained: Shastri
New Delhi, December 25
Speaker Yoganand Shastri has directed the secretariat to prepare an outline of its working according to the parliamentary procedures and rights.
Maharaja Suraj Mal lauded for diplomacy
New Delhi, December 25
Speaker of Haryana Legislative Assembly, Raghuvir Singh Kadian, described Maharaja Suraj Mal as a shrewd diplomat of his time who displayed great adroitness in handling men and matters.
Man hangs self after killing wife
Greater Noida, December 25
The man who had killed his wife in a fit of rage on Sunday realized his folly later at Chhapra village in Greater Noida. He committed suicide near the spot where his wife was cremated.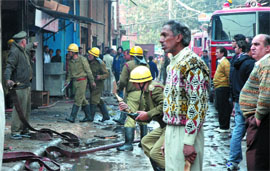 2 shops gutted in Chandni Chowk
New Delhi, December 25
A fire broke out at old Lajpat Rai market in the Chandni Chowk area of North Delhi this morning in which two electronic goods shops were gutted.
Firefighters douse fire at a shop in Chandni Chowk's Lajpat Rai Market in New Delhi on Thursday. Tribune photo: Manas Ranjan Bhui

1,126 allotted plots in Gt Noida
Greater Noida, December 25
On the last day of the draw of the residential scheme, 1,126 people were allotted plots of 200 sq mt in Sector-3, Greater Noida. Thus ended the three-day schedule of draws.
Journalists call for self-restraint
New Delhi, December 25
The Delhi Union of Journalists (DUJ) has cautioned against warmongering, whipping up frenzy and jingoism in the aftermath of the Mumbai terror attack coverage and connected developments in Pakistani and Indian media.
Jewellery shop looted
New Delhi, December 25
Robbers decamped with jewellery worth Rs 8 lakh from a jewellery shop in the Bapa Nagar area of Karol Bagh last night. According to the police, the neighbours reported breaking of shutters of 'Manish Jewellers' early morning today.
Pillion riders rob couple
New Delhi, December 25
Two motorbike-borne men on Tuesday robbed a couple going in an auto-rickshaw in the heart of the national Capital on Tuesday evening.