Whether bomb falls in India or Pak, Nasreen would cry
Nasreen Shakeel's heart is beating fast these days as war rhetoric between India and Pakistan attains feverish pitch. With defence forces of both countries in battle-readiness mood, she is hardly able to sleep. For whether a bomb falls in India or Pakistan, her own blood would be spilt. "My near and dear ones live on both sides of the border," said Nasreen. She hails from Larkana village in Pakistan and was married to Shakeel of Jodhpur 18 years ago.
Israelis offer to restore Nariman House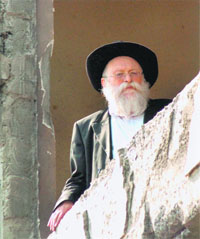 Mumbai, December 25
Israelis belonging to the Chabad-Lubavich movement, an ultra-orthodox Jewish sect, say they will rebuild the Chabad House or Nariman House building which was attacked by terrorists in Mumbai last month. Members of the Chabad-Lubavich movement say they will begin reconstruction work on the building, located at Colaba in South Mumbai, as soon as it is handed over to them. Earlier, this week engineers of the Brihanmumbai municipal corporation conducted a structural survey of the building and concluded that it had not suffered too much damage.
Shimon Rosenberg, grandfather of two-year-old Moshe who lost his parents during the 26/11 terror attacks, at Nariman House in Mumbai on Thursday. — PTI
Orissa observes peaceful Midnight Mass
Bhubaneswar, December 25
Thousands of Christians in troubled Kandhamal and elsewhere in Orissa held a "peaceful" midnight mass amidst tight security across the state.
Subdued X'mas in Mumbai
Mumbai, December 25
The November 26 terror attack has cast a shadow on the Christmas celebrations in this city. Christians here celebrated the festival in a sombre mood praying for the victims of the audacious attack. "Every year, my family, including myself, go to a church for the midnight mass followed by a small get-together with dance and music," said Koreen Cardoz (48), a teacher by profession.
Fisheries Dept Scam
'Govt shielding tainted ministers'
Hyderabad, December 25
The Congress government in Andhra Pradesh is coming under increasing pressure to take action against six ministers and some senior officials for their alleged role in the multi-crore fisheries department scam.
UP on boil as violence marks SP bandh
Lucknow, December 25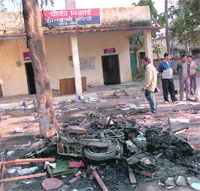 The brutal killing of a PWD engineer allegedly by a ruling party MLA threatens to snowball into a major crisis for the BSP with the Samajwadi Party's statewide bandh call receiving wide response throughout the state. The contour of a firming of the alliance between the Congress and Samajwadi Party (SP) was also visible with the Congress workers joining the Samajwadi activists at various places. The Congress workers even joined hands with the SP to stop trains in Allahabad, Etawah, Mainpuri and Kanpur and blocked highways in several places.
The Auraiya police station which was ransacked by the protesters on Thursday. — PTI
Antulay Saga
BJP, JD (U) at loggerheads
New Delhi, December 25
The JD (U) attempt to score points in support of Minority Affairs Minister AR Antulay and put down its ally, the BJP, has now snowballed into a controversy with the BJP warning the JD (U) yesterday to make up its mind whether it wanted to continue with the NDA or not.
Cotton procurement policy for Punjab may be relaxed
New Delhi, December 25
The Centre might relax its cotton procurement policy for Punjab by not insisting for land ownership records from its growers. An indication to this effect was made on Tuesday by Union Agriculture Minister Sharad Pawar and Textile Minister Shankar Singh Vaghela after a delegation of Punjab MPs led by Shiromani Akali Dal president Sukhbir Badal met them to resolve the situation arising out of the cotton growers' strike threat.
Daylight Drama
Naxals attack cop party escorting train
Patna, December 25
Just a day after the Bihar's Director-General of Police held a press conference to say that the overall crime situation in the state was on the downslide and the police had arrested 442 Naxals, including 43 self-proclaimed area/zonal commanders of Maoists armed guards, the Naxals attacked the police party escorting a passenger train (Bhagalpur-Muzaffarpur Inter-city Express) near Ghoghi Bariarpur railway station under Lakhisarai district killing one policeman on the spot.
Snail mail catches peddlers' fancy
New Delhi, December 25
Indian postal services are not just used by people for sending harmless letters, parcels and telegrams. Drug dealers are also making wide network of the postal department to smuggle dangerous drugs and psychotropic substances.
Stalin set to assume DMK treasurer charge
Chennai, December 25
MK Stalin, the son of Tamil Nadu Chief Minister and DMK president M Karunanidhi, would be elevated to the third position in the party hierarchy at (DMK's) scheduled general council meeting on December 27.
HC raps MoD over reply in pension case
Chandigarh, December 25
The tone and contents of a reply submitted on behalf of the defence secretary in a contempt petition has invited wrath of the Punjab and Haryana High Court. Recording its displeasure on the manner the reply had been drafted, the court observed that such actions were non-appreciable.
Left in a fix
New Delhi, December 25
The Left parties are in a tight spot over the recent killing of an executive engineer in Uttar Pradesh allegedly by a BSP MLA ostensibly because of his failure to donate for the birthday celebrations of Uttar Pradesh Chief Minister Mayawati.
Heftier pay packets for Bihar govt employees
Patna, December 25
Despite having faced a "national calamity" in the form of Kosi floods, the Bihar government has decided to open its kitty for its employees. The state cabinet took a decision on Tuesday to implement the recommendations of the sixth pay panel for its employees. And the timing could not have been more perfect.
Hyderabad citizens now more secure
Hyderabad, December 25
The citizens of Hyderabad will not have to make frantic telephone calls to the police in emergency situations.
BJP: No favouritism in choosing candidates
New Delhi, December 25
The BJP has decided to finalise most of its Lok Sabha candidates before its goes for its next national council meeting in Nagpur on January 23-25.