MP dons guide's cap for rural kids
Chandigarh, December 31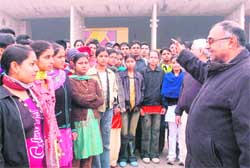 The last day of the year saw Hoshiarpur MP Avinash Rai Khanna donning the cap of a tourist guide for the rural school students. In fact, in a unique gesture, the BJP leader took students of his constituency to educational-cum-recreational trip to Le Corbusier's landmarks, including the Vidhan Sabha, the Civil Secretariat and the Punjab and Haryana High Court building here today.
MP Avinash Rai Khanna with rural students outside the Vidhan Sabha building in Chandigarh on Wednesday. Tribune photo:Manoj Mahajan
Adopt real economic federalism: CM to Centre
Nadala (Kapurthala), December 31
Chief Minister Parkash Singh Badal today urged the Centre to adopt the concept of "economic federalism" in true spirit for a balanced development of the states and the Centre.
Reforms in SGPC soon, says SAD chief
Singo (Bathinda), December 31
Shiromani Akali Dal (SAD) chief Sukhbir Singh Badal will soon introduce major reforms in the Shiromani Gurdwara Prabandhak Committee (SGPC). However, he chose to disclose details later.


France may remove ban: Minister
Chandigarh, December 31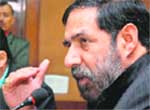 Sikh children going to government schools in France could win the right to wear turbans with the French government agreeing to consider a proposal to delink this issue from the ban on wearing of head gear which is in force since March, 2004.
Minister of State for External Affairs Anand Sharma during a press conference at UT guest house in Chandigarh on Wednesday. A Tribune photograph
Sangha is new Punjab women panel chief
Chandigarh, December 31
"In twenty years from now it would become difficult for women to get out of their houses in Punjab and feel safe. If the decline in sex ratio continues the way it is, crime against women would increase manifold," said Gurdev Kaur Sangha the newly chosen chairperson of the Punjab State Women's commission.
Punjab resents Haryana engineer's appointment
Jalandhar, December 31
Reacting to the appointment of Haryana cadre engineer MK Gupta as member (Irrigation) of the Bhakra Beas Management Board (BBMB), Irrigation Minister Janmeja Singh Sekhon today said it was great injustice of the union government to Punjab. "The Union Water Resources Ministry's rejecting our claim to this post amounted to humiliating the state," said Sekhon . Gupta assumed charge of the member (Irrigation) of the BBMB today.
Nabha royal family to give 10th Guru's relics to govt
Chandigarh, December 31
A turban, three swords, a cloak, a comb with hair of Guru Gobind Singh and a hand-written piece of paper (manuscript) of the10 th Sikh Master are the relics erstwhile princely family of Nabha state has agreed to hand over to the Punjab government.
Sikh History Research Board director sticks to definition
Amritsar , December 31
The Shiromani Gurdwara Prabandhak Committee (SGPC) is again in the news over the Sehajdhari issue even as Dr Anurag Singh, director, Sikh History Research Board, questioned the formation of the three-member committee that includes the executive committee member who effected amendment in the affidavit on the definition of Sehajdhari filed in the Punjab and Haryana High Court.
Hindu pilgrims' Pak visit cleared
Amritsar, December 31
The current impasse between India and Pakistan notwithstanding, the Indian Ministry of External Affairs cleared the visit of a 31-member group of Hindu pilgrims to Pakistan from January 8 to 18, said Surinder Kumar Billa, president, All-India Hindu Shiv Sena, here today.
'Pak whipping up war hysteria'
Chandigarh, December 31
Minister of State for External Affairs Anand Sharma said today that India was for the "neutralisation" of terrorists responsible for the Mumbai strikes and Pakistan was resorting to war hysteria to avoid this duty.

Punjabi epic brought on VCD
Amritsar, December 31
A Punjabi epic, "Tum Chandan," composed by Siri Ram Arsh, a retired joint director, Punjab Public Relations, depicting the life, teachings and philosophy of medieval period saint poet Bhagat Ravidas, has been brought on the VCD by an eminent scholar of Gurbani viz Sant Rama Nand who has recited the whole epic in rhythmical tunes in consonance with the metres used by the author in the epic.
Siri Ram Arsh, retd joint director, Punjab Public Relations.
Rs 77 crore for kitchens in schools
Chandigarh, December 31
Every school in Punjab, implementing mid-day meal scheme of the Centre, will have own kitchen.
Society for animals formed
Sangrur, December 31
With a view to check atrocities on animals in an effective manner, a society for the prevention of cruelty to animals has been set up in the district. This society will implement the animal protection laws at the grassroots level.
SGPC secy retires
Amritsar, December 31 SGPC secretary Harbeant Singh retired here today. In 2004, he was sacked as SGPC secretary when late Gurcharan Singh Tohra was president, for getting job on the basis of a "fake certificate".


Expert opinion cannot be ignored: HC
Chandigarh, December 31
The Punjab and Haryana High Court has made it clear that the behaviour of a mentally challenged accused inside the courtroom is not enough for the trial court to form an opinion on his fitness to face trial and that the expert opinion cannot be ignored.


Doctor couple booked for conducting 'illegal' MTP
Sangrur, December 31
The police has registered a case against a doctor couple of Bhawanigarh under Section 15.2 of the Indian Medical Council Act and provisions of the Medical Termination of Pregnancy (MTP) Act. However, no arrest has been made in this case so far.