Enjoying the Sun Feast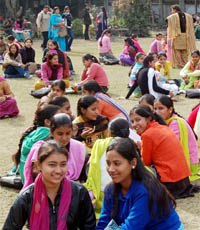 Students of SR Government College for Girls on a bright sunny day in Amritsar. Photo: Vishal Kumar
Road project faces Jain community's opposition
Amritsar, January 20
The ambitious elevated road project may run into trouble as the Jain community has made it clear that it would not allow the project at the expense of their memorial, build in memory of their great leader Sohan Lal Jain.
Campus Buzz
GND varsity gets Rs 3.8 cr for research
Amritsar, January 20
Guru Nanak Dev University has received a grant of Rs 3.8 crore from various funding sources to enhance research in the university, said director research Dr S.S. Chahal. He said the department of science and technology had identified the department of botanical and environment sciences, molecular biology and biochemistry and zoology of the university for special financial assistance for research under the "fund for improvement of S&T infrastructure in higher educational institutions" (FIST) scheme, for a period of five years.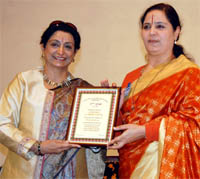 Gurumaa calls upon girls to fight it out
Amritsar, January 20
Students of SR Governement College here had more than a lesson in spirituality from Gurpreeti Hari, popularly known as Anandmurti Gurumaa, when the spiritual guru, also an alumnus of the college, called upon the girls to become economically independent, mentally strong and to fight against female foeticide and infanticide.
Jasmeet Nayyar, principal, SR Government College for Girls, honours Anandmurti Gurumaa at the college in Amritsar. Photo: Vishal Kumar

Chopping Of Trees
Expose, punish the miscreants: NGO
Amritsar, January 20
An environmental NGO, Joint Effort, today urged the government and the administration to take stringent action against an advertising agency and the officials who had given permission for installing huge hoardings on the premises of Guru Teg Bahadur Hospital by chopping trees.
Sports club holds protest against Pataudi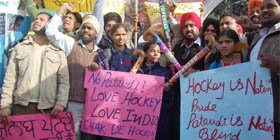 Amritsar, January 20
The Sarhad-e-Punjab Sports Club protested against former test cricketer Mansoor Ali Khan Pataudi for advocating cricket as national game instead of hockey.
Members of the Sarhad-e-Punjab Sports Club protest against former Indian cricket team captain Mansoor Ali Khan Pataudi in Amritsar on Tuesday. Photo: Vishal Kumar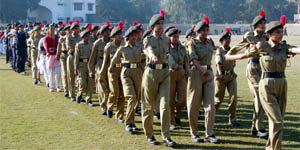 NCC girls undergo full dress rehearsal ahead of Rebublic Day at Guru Nanak Stadium in Amritsar. Photo: Vishal Kumar
City lad bags chess trophy
Amritsar, January 20
Tejas Singh Arora has won the north zone trophy in chess championship while he remained runners-up in the NIIT national chess championship organised by the NIIT Mind Champions Academy held in Jaipur.
MLA honours Major Verka
Amritsar, January 20
Major Manmohan Singh Verka, who was appointed member of the Amritsar District Planning Board, was honoured by SAD MLA Dr Dalbir Singh Verka.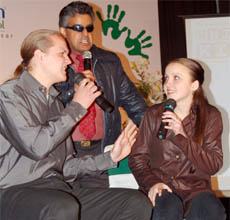 Experts give parents kid-grooming tips
Amritsar, January 20
Spending "quality time" with children was essential not only for creating a meaningful relationship but also for their better grooming, said Dr Bindu Rana, a noted child psychologist and head of research and development at Educomp Solutions Ltd.




Artistes enact a play on education at Millennium School in Amritsar. Photo: Vishal Kumar