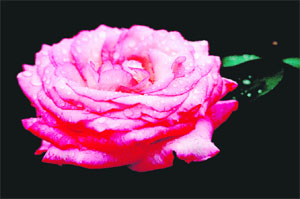 Dew drops on a rose in Jammu remind people of the winter chill. Tribune photo: Anand Sharma

Buddhal's naib tehsildar works from Koteranka
Buddhal (Rajouri), January 20
As Chief Minister Omar Abdullah seeks to introduce e-governance in the state, this niabat (lowest administrative wing in the state) remains "without" a naib tehsildar for the past six years. Though the state government has posted a naib tehsildar for this niabat, he doesn't sit here and instead operate from the tehsil office in Koteranka.
Working women's hostel houses govt offices
Jammu, January 20
A hostel for working women constructed five years ago at a cost of Rs 1.12 crore at Lower Roop Nagar here reflects a sordid tale of government's laidback attitude.
Kashmir lacks facilities for differently abled
Srinagar, January 20
Friendly environment for the differently abled population in Kashmir valley remains a distant dream. Though some beginning has been made with the construction of ramps here and there, most of the facilities are missing.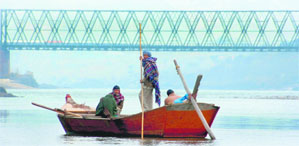 Bridge fails to improve commuting
Akhnoor, January 20
Despite the country's longest cantilever bridge for almost one year and an already existing steel bridge on the Chenab, boats continue to surf the river water for commuting people, thus saving their time and money.
Despite a bridge over the Chenab in Akhnoor, people still rely on boats for commuting. Tribune photo: Anand Sharma