Ghalib's affair with Mussoorie whisky
Sanjay Tamta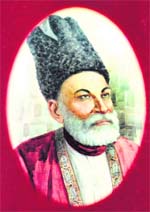 'Laa pila de saakiya, paimana paimane ke baad'…Mirza Asadulla Ghalib said these famous lines in 'high spirits'. The great poet was indeed very fond of fine liquor.
And to be at his creative best, Ghalib had always longed for the best of the ales that came to Meerut cantonment all the way from the old brewery in Mussoorie.
One of the best spirits of the world was brewed at the MacKinnon's brewery in Mussoorie, which was supplied to the cantonments of Meerut, Ludhiana, Jullundhar and Jabalpur. The maverick, Mirza Ghalib, whenever he had money, travelled on a pony from Balli Maran in Chandni Chowk, Delhi, all the way to the Meerut Cantonment to fetch a full stock of his favorite Mussoorie whisky. "Mussoorie ki hawa hi nahi paani me bhi nasha hai (not only the air but the water of Mussoorie is also intoxicating)," historian Gopal Bhardwaj quotes Ghalib in his accounts.
In 1829, Sir Henry Bohle started the old brewery on the outskirts of Mussoorie on the Mussoorie-Haathipaon road. He was licenced to make beer only but as his beer had become the first choice among mild and hardcore drinkers alike, he started brewing whisky also, for which he didn't had a licence.
When Frederick young, the superintendent of Dehradun and Mussoorie, objected to the whisky business in 1850, Bohle reasoned that geographically his brewery lies in Tehri Garhwal and not Dehradun-Mussoorie jurisdiction.
The cart Mackenzie road was a dirt-track through a thick forest which was made to connect the brewery with the Mussoorie-Dehradun highway. Huge wooden barrels were supplied on the cart Mackenzie road, which is a fine metal road today, and a hot favorite among Doonites looking out for peaceful places.
The brewery was closed down in 1834, reopened for a period of four years and was again shut down. In 1850, Sir John Mackinnon, the first president of the Mussoorie municipal board and the brother-in-law of Sir Bohle, started the brewery again and renamed it as MacKinnon's brewery. Sir Mackinnon was a writer, philosopher, educationist and a great human being, and did a lot for his beloved Mussoorie.
The mesmerising ruins of the brewery can be seen beside the Lynndale estate on the Mussoorie-Haathipaon road and remains of the empty bottles can still be found in the jungle around the brewery.
Later, brewers like the Crown and the Whymper also built breweries around the Barlowgunj area near Mussoorie.
(The writer is a freelance journalist from Mussoorie)