Farmers, truckers to gherao Parliament
Chandigarh, January 31
In the first of its kind alignment, the ongoing agitation by various trucker organisations in Punjab will now be supported by prominent farmer organisations that have decided to jointly gherao Parliament from February 18 onwards for an indefinite period.



Congress posers to Badal on Anandpur Sahib Resolution
Jalandhar, January 31
The Congress has asked some probing questions to Chief Minister Parkash Singh Badal with regard to the Anandpur Sahib Resolution, which is back in the political limelight in the state. Badal, who is SAD's chief patron, had stated recently that he would ask the BJP-led National Democratic Alliance (NDA) to make the resolution a part of its common minimum programme (CMP) during the Lok Sabha elections.
Implement Mandal panel report: PPCC to govt
Amritsar, January 31
The Punjab Pradesh Congress Committee (PPCC) will launch an agitation if the state government fails to implement the report of the Mandal Commission as per the directions of the apex court.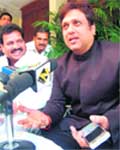 Will Govinda contest from Amritsar?
Bollywood actor's visit fuels speculation
Amritsar, January 31
Bollywood actor Govinda claimed that he had a miraculous escape from a speeding bus here this morning. Putting up at a private hotel in the posh Ranjit Avenue, he said he had gone for a morning walk on the nearby road.


Bollywood actor and Congress MP from Mumbai Govinda interacts with the media on Saturday. Photo: Vishal Kumar
Not in race for PPCC presidentship: Capt
Ludhiana, January 31
Former Chief Minister Capt Amarinder Singh today said he was not in the race for presidentship of the Punjab Pradesh Congress Committee (PPCC). He said he neither went to the Congress high command on the issue nor was asked to shoulder the responsibility. But if he would be entrusted with the responsibility, he would come up to the expectations.
Libra may get Cong ticket from Fatehgarh Sahib
Jalandhar, January 31
SAD MP from Ropar Sukhdev Singh Libra is likely to get the Congress ticket from Fatehgarh Sahib in the forthcoming Lok Sabha elections.
SAD not to allot Ludhiana seat to BJP
Jalandhar, January 31
The Shiromani Akali Dal (SAD) will not allot Ludhiana Lok Sabha constituency to the BJP. Sources said some senior leaders of the BJP were informed today to concentrate on Hoshiarpur Lok Sabha seat as the SAD wants to put up its candidate from Ludhiana. The BJP was keen to swap Hoshiarpur seat for Ludhiana's with the SAD. However, sources said, the BJP would make another effort to seek Ludhiana instead of Hoshiarpur from the SAD.


Rice mill owners to start stir soon
Gurdaspur, January 31
Having failed to get positive response from the Central government towards the solution of their genuine problems, rice mill owners of the state have decided to launch an agitation shortly to get justice. To put pressure on the Centre, the rice mill owners may start a rail roko agitation from this district.
Docs resent delay in filing of challan
Sangrur, January 31
The local unit of the Indian Medical Association (IMA) yesterday held a meeting to discuss the delay in the filing of challan by the police against Tirloki Nath and others, allegedly involved in the assault on a doctor couple KG Singla and his wife Renu and ransacking of their hospital at Sangrur on July 12, after the death of a patient Neeru Bala.
Vested interests derailed peace process: Dera spokesman
Amritsar, January 31
Reacting to the reiteration of "boycott call" of Dera Sacha Sauda, given by the Sikh clergy, Dera spokesman Aditya Insaan today called for identifying the forces responsible for "derailment of peace process," including rejection of the third draft of the apology, prepared on behalf of Gurmeet Ram Rahim Singh on June 19, 2007.
Scheme to help farmers repay debts
Patiala, January 31
State Bank of Patiala has launched a special scheme for the welfare of farmers with a view to help them repay debts taken from non-institutional moneylenders.
Security beefed up for Hola Mohalla
Anandpur Sahib, January 31
Anandpur Sahib and Kiratpur Sahib, for security reasons, have been divided into nine sectors and four sectors, respectively, for Hola Mohalla celebrations.
Special test for govt schoolgirls on Feb 14
Chandigarh, January 31
The Department of Education will conduct special competitive examination for girls of class VI and VII studying in government schools in Punjab on February 14.


Security Equipment Case
Court holds Punjab's action contemptuous
Chandigarh, January 31
The Punjab government's "crude" attempt to make Justice Ranjit Singh of the Punjab and Haryana High Court recuse himself from the security equipment case today backfired.
Act responsibly: HC to chief law officer
Chandigarh, January 31
The high court wants Punjab's chief law officer (advocate-general) to act with greater responsibility.


Poohla Murder Case
Mobile phones recovered from accused in jail
Amritsar, January 31
Following the recovery of mobile phones from those accused of killing Nihang Ajit Singh Poohla in the Central Jail here a couple of days ago, revelations after the arrest of two drug smugglers following a tip-off here today have raised hackles in police circles.