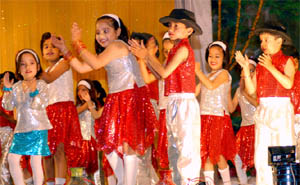 MSD Senior Secondary Public School, Bathinda, celebrated its annual function on Wednesday. I-T commissioner Harjit Singh Sohi was the chief guest and DEO (secondary) Baljinder Singh Mann was the guest of honour on the occasion. Chiranji Lal Garg, president of the school, welcomed the guests while principal Suraj Setia highlighted the achievements of the school. Tribune photo: Malkiat Singh
NFL employees stage gate rally, want pay hike
Bathinda, February 4
Expressing resentment over the alleged callous attitude of the management to accept their proposals according to the report of the Sixth Pay Commission, activists of the National fertilizers Limited (NFL) coordination committee today staged a rally out side the main gate of its Bathinda unit.
Dharna today
PRTC men criticise transport policy
Bathinda, February 4
Employees of the Punjab Roadways Transport Corporation (PRTC) today held a gate rally at the PRTC workshop here to protest against the transport policy of the state government.
Education dept flayed
Bathinda, February 4
The Democratic Employees' Front here strongly criticised the education department's move of appointing advisors under the Sarv Shiksha Abhiyan on contract basis.
Farmers to block traffic on Feb 10
Bathinda, February 4
Demanding futher reduction in diesel price and subsidy on fertilisers, various farmers' unions, including the BKU (Ekta), Kisan Sangharsh Committee, Punjab Kisan Sabha and Kirti Kisan Sabha of Punjab, have decided to launch a three-hour 'rail roko and rasta roko' agitation on February 10.
PSEB turns 50
PSEB achieved milestones: Chairman
Mansa, February 4
The chairman of Punjab State Electricity Board (PSEB), H.S. Brar, claimed that the board had been successful in ensuring power to all the villages in the state since 1976.
Pallu villagers welcome Camel safari
Hanumangarh/Abohar, February 4
The village Pallu, located some 100 km from the district headquarter has schools, college, dharamshalas, banks and hotels but so far none of its resident had ever joined the Indian Army. The gram panchayat last night offered to give Rs 10,000 to the youth who breaks the stalemate.
Livestock fair
Cattle fail to find buyers
Abohar, February 4
So far none of the 750 cattle, which were brought by their owners to the roadside annual fair, has found a buyer during the last 48 hours.
Physically challanged kids to get aid
Mansa, February 4
The Sarv Shiksha Abhiyan (SSA) would distribute aid among physically challenged children who were identified and during the block-level camps.
Anganwari workers to stage demonstration
Abohar, February 4
The All India Anganwari Workers Association warned the state government on Wednesday that state-level rally and demonstration would be organised in Bathinda during the Women Day function on March 8, if demand for revising the monthly allowance was not accepted.
Sarpanch among 11 booked
Abohar, February 4
The police have registered a case against the Sarpanch of Ghuriana village along with 10 others under sections 342, 384, 148 and 149 of the IPC, sources said.