Polluting unit: It's raining paint in residential area
PPCB yet to take appropriate measures
Phagwara, February 5
In a clear case of government apathy, the Punjab Pollution Control Board (PPCB) is turning a blind eye towards the problem caused due to severe air and noise pollution caused by a unit being run in a residential area of Phagwara.
Self-Defence Skills
Preparing girls to deliver sound punch
Phagwara, February 5
The Institute of Computer and Finance Executives (ICFe), the leading provider of training for the finance sector, in collaboration with the Traditional Karate Federation of India held "Project Shakti", women empowerment programme here.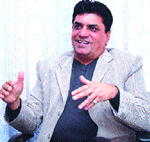 Know Your Artiste
Vijay Dhammi
The hit-man of Punjabi music
Jalandhar, February 5
"Sannu kujh vi na yaad reha, tere ton bagair,
ohna karange pyaar jinna karengi tu kair,
mara chamkan tu sannu bhaven rajj ke
ruva lai par chadd ke na ja".

Photo: Suryakant

Sharp rise in night temperature
Jalandhar, February 5
The minimum temperatures in Punjab rose sharply last night and were 4 to 7 notches above normal.
Young World
DAVIET students do city proud
Jalandhar, February 5
Students of DAV Institute of Engineering and Technology (DAVIET) have brought laurels by winning prizes in an all-India essay writing competition organised by the Shri Ram Chandra Mission, an NGO working with the United Nations Department of Public Information, to commemorate United Nations International Youth Day.