Wild cat declared man-eater
Dehradun, February 8
Bowing under public pressure for decisive action, the state
wildlife authorities have finally declared the tiger that killed a
woman in the buffer area of Corbett Tiger Reserve on Thursday
as man-eater. "The tiger has been declared as man-eater, but
with conditions that it should be caught with all precautions
and only be shot as a last resort," principal Chief Conservator
of Forests Dr RBS Rawat said today.
Encroachments take sheen off Asoka's monument


Dehradun, February 8
The 14th century rock edict in Kalsi on the Yamuna bank, a few kilometres from the city could have been this little town's road to fame, attracting tourists from India and abroad.
Ashokan rock edict at Kalsi.
A Tribune photograph

Society 'eyes' schoolchildren
Dehradun, February 8
To tackle the problem of poor eyesight among children, the State Blindness Control Society has made schools the focus of its awareness campaign.
RIMC cadet awarded for excelling in sports
Dehradun, February 8
Rashtriya Indian Military College (RIMC) cadet Leonard Arambam has been conferred the National Child Award for Exceptional Achievements in the field of sports.
Valentine's Day
Organisations to resist moral policing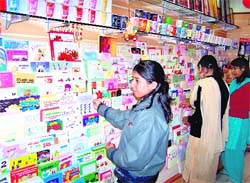 Haridwar/Dehradun, February 8
With the Valentine week starting from February 8, the so-called traditionalists and purists and saviours of the culture have started issuing warning against the youths to desist from the day of love. But this time they may face resistance from several organisations as they have come out in open in favour of the Valentine celebrations, though they want it to be in the decency limits.
Young girls select Valentine cards and gifts in Haridwar on Sunday. Tribune photo: Rameshwar
Illegal liquor seized; four held
Haridwar, February 8
The excise department seized illegal liquor from a car, here today. As sale and use of liquor is prohibited in the city the liquor mafia smuggle it here and sell it at double the price.
DGP stresses on public-police coop
Says Beat Box can be useful
Dehradun, February 8
A seminar regarding the Beat Policing system was held at the Kathgodam police station in Nainital yesterday. DGP, Uttarakhand, Subhash Joshi presided over the seminar, which was attended by the police officials of the Udham Singh Nagar and Nainital districts.
Rahul wins debate on media
Dehradun, February 8
Sardar Bhagwan Singh Post Graduate Institute of Biomedical Sciences and Research yesterday concluded the debate. Debaters at length spoke on the topic 'Should there be check on media while reporting issues linked to national security'.
Kids welcome onset of spring with songs & dance
Dehradun, February 8
Members of state unit of the Intellectual and Technocrat Guild of India (affiliated to UNESCO) organised a cultural function to mark the onset of spring at the Punjabi university, here today. Women and children, dresses in shining yellow attires, performed dance, sang songs and decorated the entrance gate with a beautiful rangoli.
Appoint info officers, sports bodies told
Dehradun, February 8
In a decision that could help bring transparency in the working of various sports associations in the state, Uttarakhand State Information Commission has directed the state Sports Directorate to ensure the appointment of public information officers at various sports associations in the state. The secretaries in these associations will now be designated public information officers for their respective association.
Meltdown, yet job fair gets good response
Dehradun, February 8
Despite the ongoing economic meltdown, Dolphin Job Fair 09 held on February 7, got a tremendous response with participation of about 50 companies of high repute and around 1,000 students form 29 colleges of the state. The companies, which short-listed the students, were Aquamall water Solutions (Eureka Forbes), Ipca Labs, Zee Labs, Kailash Hospital, Physiotherapy Services, Jaipur Hospital College of Physiotherapy and Needs Pharma.
CM to begin campaign on Feb 12
Dehradun, February 8 After returning from the Bharatiya Janata Party (BJP) national executive meet in Nagpur, Uttarakhand Chief Minister Maj Gen BC Khanduri (retd) will embark on a whirlwind tour of the state in two phases to campaign for the forthcoming Lok Sabha elections.
Submit list of pension beneficiaries: DM
Dehradun, February 8
Following a scam in the distribution of Old age, widow and handicapped persons' pensions in the district, the District Magistrate Amit Negi has ordered the District Social Welfare officer to provide a detailed list of the beneficiaries of these pension schemes to the respective sub-divisional magistrates within three days.