Strike paralyses work in govt offices
Jammu, February 11
Work in government departments, including PSUs, remained paralysed for the second consecutive day here today in protest against delay in the implementation of the 6th Pay Commission's recommendations, even as the striking employees threatened to go on strike again from February 16.
Samiti to hold protest tomorrow
Jammu, February 11
Accusing the state government of "maintaining a criminal silence" over the pending issues related to the Amarnath land agitation, the Amarnath Yatra Sangharsh Samiti today said they would hold protests in all the district and tehsil headquarters in Jammu region on Friday.
LPG shortage in Doda, Kishtwar
Udhampur, February 11
Notwithstanding claims of the state government to ensure supply of essential commodities, Doda and Kishtwar districts have been facing acute shortage of LPG, petrol, diesel and kerosene. While as all petrol pumps are running dry, dealers of the LPG have also shown their helplessness in supplying the gas due to non-availability of supply from Jammu.
Denied exam duty, 3 teachers thrash colleague
Udhampur, February 11
In a bizarre incident, three teachers assaulted their colleague at Kishtwar town for not deploying them on duty for forthcoming Class XII and Class X examinations. Following a complaint by the victim, the Kishtwar police has registered a case against three teachers namely Mehbooba Hussain, Qadir Hussain and Shabir Ahmed.
Ruling alliance communally biased: BJP
Jammu, February 11
The state BJP has accused the ruling coalition of being "communally biased" as it fielded candidates for the Rajya Sabha elections on communal considerations, ignoring secular representation of the state.
10 injured as youths clash with cops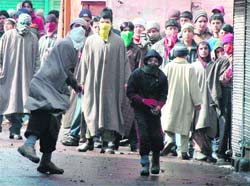 Srinagar, February 11
At least 10 persons were injured in clashes between protesters and security forces in Srinagar and Baramulla amid a complete shutdown across the valley to commemorate JKLF founder leader Maqbool Bhat's 25 death anniversary today. Those injured included six persons in Baramulla and four in the Maisuma locality of central Lal Chowk where the protesters took out processions.
Youths pelt security personnel with stones during a protest in Srinagar on Wednesday. Tribune photo: Amin War
Omar will overcome all challenges,says Farooq
Jammu, February 11
Even as NC president Farooq Abdullah felt that his son Omar Abdullah heading the NC-Congress coalition regime in the state faced daunting tasks, he exuded confidence that the youngest-ever Chief Minister would overcome challenges living up to the expectations of people.
VC rues poor intake capacity of Kashmir varsity
Srinagar, February 11
While the government plans to expand educational facilities in the state by establishing 40 new colleges in the next six years and having sanctioned 11 more colleges recently, the state is faced with the problem of increasing unemployment among educated youth. Not only some of the old degree colleges, but also almost all new colleges established during the past six years are faced with the problem of lack of physical and human resources infrastructure.
Highway opens after brief closure
Srinagar, February 11
Following overnight rain, the Jammu-Srinagar highway was closed this morning, but traffic was resumed around 11 am.
Industrial growth vital for overall progress: Omar
Srinagar, February 11
Chief Minister Omar Abdullah here stressed the need for development of industrial sector in the state to overcome the problem of unemployment saying that stepwise movement ahead was necessary for overall progress and development.
Govt plans to revive wool industry
Srinagar, February 11
The state government is considering reviving the wool industry, which will help improve the socioeconomic profile of a large segment of population in the state, Chief Minister Omar Abdullah said here today.