Farmers take the silk route
Neena Sharma
Tribune News Service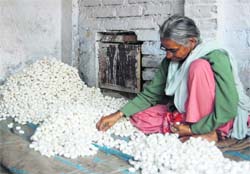 A woman segregates cocoons.
Tribune photo: Anil P. Rawat
Dehradun, February 12
Bracing up for the competition posed by the monopoly of Chinese silk yarn in the market and to give impetus to silk cultivation, for the first time the state government has announced a minimum support price on the purchase of cocoon.
The government announcement is aimed to offset the loses that farmers may have suffered on account of the Chinese invasion and to make silk cultivation, weaving and production a profitable venture.
"By fixing the minimum support price for cocoon, the interests of the farmers has been taken care of. According to conservative estimates, a farmer through cocoon rearing can earn a profit of Rs 45-Rs 50 lakh per year. The minimum support price for A-grade cocoon is Rs 110 per kg, for B-grade cocoon Rs 100 per kg, for C-grade Rs 85 per kg , for D-grade Rs 70 per kg , double cocoon Rs 50 per kg and Damaged cocoon Rs 15 per kg," said IP Badola, Sericulture, Technical Section, Directorate Sericulture, Prem Nagar.
Uttarakhand produces two commercial varieties of silk, mulberry and oak tasar or vanya silk. It is estimated that one acre of mulberry can yield direct employment to five persons throughout the year for cultivation, silk worm rearing, silk reeling and silk weaving purposes. Sericulture provides scope for value addition.
Oak tasar culture is practiced in the hills and mulberry sericulture in the plains. As many as 12 districts, 34 blocks 34,521 villages and 72 Departmental farms are engaged in silk cultivation and production. The total silk production in the state is is 25,000 metric tonnes and raw silk production (mulberry) is 14 tonnes.
Silk from mulberry is silkworm animal protein which is formed of the protein contained in the mulberry leaves. An adult silk moth (bivoltine) lays 450-500 tiny eggs that are spread in wooden trays and left for incubation at a temperature of 25 degree centigrade.
From a single bivoltine cocoon, about 1,000-1,500 metres continuous filament can be drawn. Oak tasar, also called wild silk or vanya silk, is the basic food plant of the oak tasar silkworm known as antheraea proylei grown in upper hills. The Tasar is coarser and is useful for making fabrics and even upholstery.
For the production of oak tasar, shoots of tree are collected form the forest and fed to oak tasar worms in an artificially developed forest environment.
The sericulture directorate is working on developing eri and muga silk varieties, which is still in experimental stages. "The seed that can be procured from Assam is very costly, the state has a complete monopoly on it and we are working on it," informed deputy director AK Yadav, Sericulture Directorate.
As a value addition, the directorate has established the Uttarakhand Cooperative Resham Federation that functions from Prem Nagar. A weaving unit has been established at Kalsi, a few kilometres from Dehradun.
A master craftsman at work at the Kalsi weaving unit combines thread of oak tasar silk and wool into a beautiful shawl. "We have been retailing shawls and stoles that have evoked a good response from buyers," informs Shalini Pawar Weaving coordinator.
Uttarakhand is upbeat on the silk front and aiming high. The value addition through sericulture is expected to give a distinct identity to the state. A hosts of steps for farmers with small landholdings have been taken. The cocoon market function has an open auction system. A revolving fund of Rs 2 crore with 50 per cent Central Silk Board share has been created.
Truly the Uttarkhand silk has come a long way from the days of Resham Majri, a village on the Dehradun-Haridwar road, the place for where commercial sericulture began in 1881.