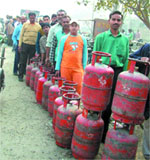 Shortage, black marketing of LPG
F & S dept plans raids to prevent misuse
Amritsar, February 13
The shortage of LPG gas cylinders and their alleged black marketing have left the residents high and dry as consumers had to wait for at least 15-20 days for the refill of their gas cylinders.



Long queue outside a gas agency due to shortage of LPG cylinders in Amritsar. Photo: Vishal Kumar
'False cases': Cong leaders up in arms against police
Amritsar, February 13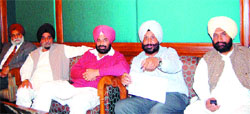 Congress leaders are up in arms against the police administration, which allegedly at the behest of the ruling Akali-BJP government is registering false cases against Congress workers and sarpanches in the five constituencies of the Amritsar rural belt, including Rajasansi, Quadian, Ajnala, Dera Baba Nanak and Kathunangal.
Congress leaders (from right) Harpartap Ajnala, Sukhjinder Singh Randhawa, Sukhbinder Singh Sukh Sarkaria, Tript Rajinder Bajwa and Swinder Singh Kathunangal address mediapersons in Amritsar. Photo: Vishal Kumar
Area committee submits memo to mayor
Amritsar, February 13
The area development committee of Dashmesh Avenue, Shori Nagar and Vikas Nagar adjacent to Guru Nanak Dev University today submitted a 13-point memorandum to the mayor and commissioner of the municipal corporation regarding the civic problems being faced by the residents of these colonies.
Campus Buzz
Refresher course in commerce inaugurated
Amritsar, February 13
"We have to identify ourselves as Indians first and rise above affiliations with our states, religions and castes and should accept meritocracy besides enthusiastically playing the role we are best suited for," said Dr S.P. Singh, former chairman and dean, University Business School, Panjab University, Chandigarh.
UGC seminar at GND varsity from today
Amritsar, February 13
Dr G.K. Chadha, member of the advisory committee to the Prime Minister and CEO, South Asian University, New Delhi, will inaugurate the two-day UGC national seminar on "Social and physical infrastructure in Punjab: Status and implications for development" to be held tomorrow at Guru Nanak Dev (GND) University.
Inter-varsity kho-kho tourney
Amritsar, February 13
Himachal Pradesh University, Shimla, defeated Jammu University with a margin of one point in the first match of the north-east zone inter-university kho-kho (women) championship held on the Guru Nanak Dev University campus here today.
Extend rail freight corridor till Amritsar: Sidhu
Amritsar, February 13


BJP MP Navjot Singh Sidhu today created a flutter in the Lok Sabha raising his voice for extension of dedicated rail freight corridor till Amritsar during the railway budget by union railway minister Lalu Prasad Yadav. Sidhu carrying a black flag, lodge a strong protest against the discrimination of the holy city by the union government as they failed to extend the freight corridor to benefit the trade and industry of this border region.
Navjot Singh Sidhu
M.Sc (biotech) entrance test on May 18
Amritsar, February 13
The All-India Combined Entrance Examination (AICET) for admission to M.Sc (biotechnology) in Guru Nanak Dev University will be held on May 18 while the last date for submission of application form is March 16.
Seminar on 'Montessori concept of learning'
Amritsar, February 13
American chain ABC Montessori organised a seminar 'Montessori concept of learning' at Amritsar and Tarn Taran recently to popularise its three projects --- Pre School, Teacher Training Institute and Day Care facilities --- with an emphasis on the selection criterion of franchises for these projects.
Kukka Movement
Tarn Taran, February 13
A district-level programme today helped relive the Kukka Movement, known for the fight against the British rulers and social evils. The function was organised at Government Middle School, Warriah Navven, 18 km from here. Three choreographies, related to the Kukka movement, were the main attraction of the function. — OC
1 nabbed with 255 gm smack
Amritsar, February 13
On a tip-off, the police yesterday nabbed Shekhar Singh, alias Shera, of Indera Colony, and seized 255 gm of smack from him. According to information, a police party of the narcotics cell put up a naka inside Khazana Gate, Circular Road, and arrested Shekhar Singh with the smack. A case under sections 22, 25, 61 and 85 of the NDPS Act has been registered against him. — TNS
Shiv Sena men gear up
Amritsar, February 13
A number of activists of the Shiv Sena today demonstrated against Valentine's Day celebration. They passed through the Islamabad area and held a demonstration outside Hall Gate. Speaking on the occasion, sena spokesperson Baldev Bhardwaj threatened that they would stop the celebrations of the day which was being observed in the country under the influence of western culture and it would not be tolerated. He said in case of any untoward incident, it would be their responsibility to tackle the situation. Any couple found on the roads celebrating the day would forcibly be married. — OC
MC workers hold protest
Amritsar, February 13
A large number of activists of the Municipal Corporation Workers' Union along with various other organisations of the corporation under the banner of Sanjhi Sangharsh Committee today protested in front of the commissioner's office for the acceptance of their demands. Raising slogans against commissioner D.P.S. Kharbanda and mayor Shawet Malik, they marched towards Hall Gate and blocked the traffic for sometime and returned to the MC office. They demanded regularisation of the temporary and ad hoc staff, who have been working in the MC for the past many years. Vijay Mishra, CITU president, speaking on the occasion said the authorities concerned should heed to their genuine demands and people should also help them in their agitation. — TNS