Feeling The Heat
Power disruptions paralyse industry
Amritsar, February 10
Irregular power supply and continuous disruptions in the industrial productions has added to the woes of the manufacturing segment which is already reeling under an economic slowdown.
Farmers block rail, road traffic
Tarn Taran, February 10
On a call given by the state-level five kisan organisations, farmers of the area blocked rail and road traffic here today by staging a dharna on rail tracks near Kakka Kandiala village.
Food street for Amritsar on pattern of Lahore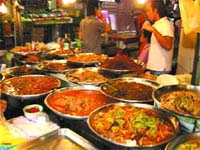 Amritsar, February 10
The district administration with the support of the ministry of tourism and culture, New Delhi, is planning to set up a food street in the city on pattern of similar food court of Lahore, which is a tourist delight. The city, known for his mouth-savouring delicacies and special dishes, have been toying with the idea of establishing a food street for last many years with different government organisations churning out plans with multinational food chains consultants.
City girl is Dhee Punjaban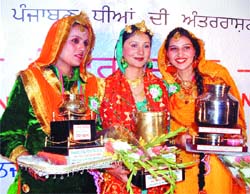 Amritsar, February 10
Amritsar girl Prabhjot Kaur Dilawari won the title of Dhee Punjaban International Heritage Contest 2009 organised by the Punjab Cultural Promotion Council (PCPC) at Khalsa College of Education on Saturday. Mandeep Kaur of Tarn Taran was the first runner-up while Mandeep Kaur Grewal of Raikot bagged the third position in the contest.
The winners of 'Dhee Punjaban International Heritage Contest-2009'in Amritsar. Photo: Vishal Kumar
Drama
DAV students perform in NSD show
Amritsar, February 10
For the first time in the 55-year-long history of DAV College, two of its students Amandeep Singh and Ravi Sharma performed on the stage of the National School of Drama (NSD), New Delhi.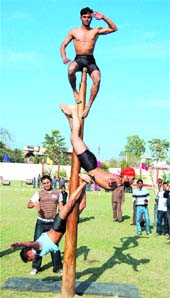 Students take part in a Mal-khamb competition during a 54th sports and athletics meet at DAV College in Amritsar. Photo: Vishal Kumar
Salil Bhatt congratulates Rahman, Zakir
Amritsar, February 10
Acclaimed Mohan veena player Salil Bhatt congratulated celebrated composer A.R. Rahman and ace tabla maestro Zakir Hussain for winning top honours at the British Academy of Film and Television Arts (BAFTA) and Grammy Awards, respectively.
Warfare to get more sophisticated: DRDO chief
Amritsar, February 10
A national conference on "recent trends in material sciences", held at the local DAV College under the aegis of the UGC was inaugurated by Guru Nanak Dev University vice-chancellor Dr Jai Rup Singh here today.
Residents jubilant over collection of door-to-door garbage
Amritsar, February 10
Spared from dumping of garbage blues, people residing in the localities selected for collecting waste for the solid waste management (SWM) project are a delighted lot. Majority of the area falling under the garbage collection scheme in the first phase belongs to Civil Lines of the city.
Bharti leaves DAV Public School in splits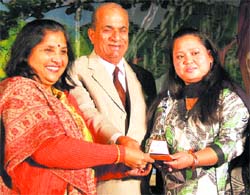 Amritsar, February 10
The roly-poly Bharti Singh of "The Great Indian Laughter Challenge" fame left the audiences enthralled with her jokes and mimicked her popular character act as "Lalli" at the annual function of DAV Public School here today. Bharti, who recently won the Kalpana Chawla excellence award, was invited to the annual function of pre-nursery as the guest of honour.
Bharti Singh being honoured by Dhani Ram, regional director of DAV, and Neera Sharma, principal of DAV Public School in Amritsar. Photo: Vishal Kumar
One held with smack
Amritsar, February 10
The police nabbed Jaspal Singh of Adliwal village and seized 1 kg of smack from him. According to information, a police party of Majitha police station had laid a naka at Sohian Kalan T-point. It stopped a man coming from Amritsar side on a motorcycle. He said that after search, the police found the contraband from him. A case has been registered against him.
Senate member
Amritsar, February 10
Dr Inderjit Kaur, associate professor of ophthalmology, Government Medical College, has been nominated as member of the Senate of the Baba Farid University of Health Science for a term of two years with effect from January 14 by university vice-chancellor Dr S.S. Gill. — TNS