February 14, 1843
This day, that time
Sanjay Tamta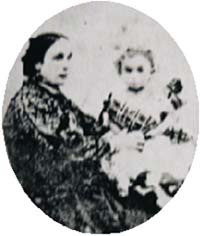 "Valentine's Day, my dear Margery, and a proper time to make amends for not having addressed a letter to your own sweet self for many a long month, though you know most of my letters home bear the Cornish motto for "one and all"."
These were the lines from a letter that Muager Monk wrote from Mussoorie to his sister Margaret Monk in England on Valentine's Day, February 14, 1843. This was one of the first few letters in India written on Valentine's Day, a time when there were no e-mails or SMSs.
Mauger Fitzhugh Monk was an Irish, who lived 21 years in Landour, Mussoorie, amidst solitude and economic distress, discovered and lost a brief love affair. Monk was among the first Irish pioneers who came and established the beautiful town of Mussoorie. He joined as a Latin and art tutor in Sir John Mackinnon's School on Mussoorie-Haathipaon road, far away from Landour.
As an ambitious enterpriser, Monk always wanted to have his own school in Landour, which he later did, but couldn't run it successfully.
He even opened a hotel in Rajpur, which also couldn't pick up a pace, which left him totally shattered.
Meanwhile, as a spiritual healer, Bess Elizabeth came in his life whom he married on November 26, 1842, in Landour.
Expressing about the change that love did to him, he wrote to Margaret in the same letter, "You can't conceive what a beneficial effect matrimony has had on me. I no longer mope in my solitary apartments, building evanescent castles, nor, in a fit of the blues, rest my chin upon my hand, looking the picture of discontent, and wish myself and all about me anywhere but where I am. My meals are cheerful, my leisure hours are enlivened, a smile and a kiss await my return from my tutorial duties, and as I sit by my snug fireside of an evening my darling Bess reads to me as I draw, or sits opposite to me with her work, if other avocation or studies require my attention. In short, I have now one, who can sympathise with my grief or vexations, and rejoice when I rejoice; who has filled a vacuum I had long felt".
Sadly, this love story didn't last long. Bess left for her heavenly abode leaving behind Mauger and their only son who survived after two dead sisters. Later, Monk remarried 16-year- old Anne Weller who was an adopted child, a victim of a broken home with foster mother being mentally ill and a father who was never a father.
Monk never kept well after that and wanted to go to England to his dear ones - his father, brothers and sisters. On the way to England, he breathed his last in Meerut on December 9, 1849.
He was buried in the Meerut graveyard, far from the family and from Bess, who was buried in Landour, Mussoorie. The details of the love and the tragic life of Mauger Monk are safe today in Mussoorie with historian Gopal Bhardwaj.
The writer is a freelance journalist from Mussoorie