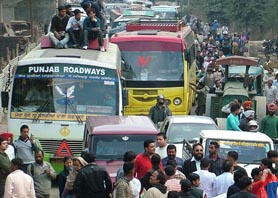 Cong dharna against power cuts
Jalandhar, February 16
Fed up with regular power cuts, agitated Congress workers staged a dharna outside the Punjab State Electricity Board office, Shakti Sadan, located near Khalsa College here today.



Activists of the Congress block traffic in protest against frequent power cuts on the GT Road in Jalandhar on Monday. Photo: Suryakant

'Punjabi NRI unhappy with SAD'
Jalandhar, February 16
Punjabis settled in different foreign countries are unhappy with the ruling SAD for voting against the UPA government, led by Dr Manmohan Singh, the first Sikh Prime Minister, during the trust motion presented in parliament on the issue of Indo-US Nuclear Treaty.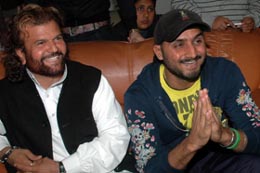 Harbhajan supports Hans in LS poll
Jalandhar, February 16
With the Lok Sabha elections approaching, the Shiromani Akali Dal (SAD) candidate from Jalandhar, Hans Raj Hans, today played a card by seeking support from Harbhajan Singh, famous cricketer.
Cricketer Harbhajan Singh interacts with mediapersons at SAD candidate Hans Raj Hans' residence in Jalandhar on Monday. Tribune photo: Pawan Sharma

BJP leader dead
Amritsar, February 16
State executive member of the BJP and vice-president of the Durgiana Parbandhak Committee Om Parkash Kalia, 68, died last night here.
Badal flayed for blaming UPA govt
Hoshiarpur, February 16
Castigating Chief Minister Parkash Singh Badal for his blaming the Congress-led UPA government of unfair treatment in providing due share of funds for the development of state without any reason, senior leader of the PPCC Romesh Chander Dogra claimed that the UPA government had been providing requisite funds under the NREGA, Sarav Sikhiya Abhiyan, mid-day meal, water supply schemes, construction of roads and creation of new infrastructure to Punjab regularly.
3 die in road mishaps
Hoshiarpur, February 16
Three persons have been killed in separate road accidents in the district in the past 24 hours. According to police sources, Khusia Ram (80) of Bassi Khan died when the motorcycle he was riding on was hit by a scooter between Shehzadpur and Hariana last evening.
Lovers' bodies recovered
Pathankot, February 16
The police recovered the bodies of a boy and a girl in the age group of 18 to 20 years, alleged to be lovers, from the UBDC, here today.
Punj's statement criticised
Amritsar, February 16
The CPI criticised the statement of Punjab BJP affairs in charge Balbir Punj for describing the Communists as having a history of working against the interests of the country.