Poll Games
Khanduri eyes ex-servicemen
Dehradun, February 24
Continuing with his aggressive public relations campaign ahead of the Lok Sabha elections, Chief Minister BC Khanduri today was amidst his own ex-servicemen. Being an ex-serviceman himself, Khanduri has remained the undisputed leader group.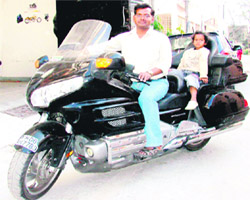 Crusade against femicide
Haridwar, February 24
He is on a mission to generate awareness among the masses across the country about female genocide. Dr SK Seth will also create a world record if he successfully completes the tour in 22 days on the world's biggest motorcycle. Seth will start the expedition today from Haridwar and traverse through several states like Uttar Pradesh, Delhi, Rajasthan, Maharashtra, Orissa, Karnataka and West Bengal.

Dr SK Seth on his motorbike in Haridwar on Tuesday. A Tribune photo: Rameshwar
Hydro-projects: Protests against suspension of work
Dehradun, February 24
Politics over hydro-power projects in Uttarakhand has got the better of public interest. The BJP and Congress-led governments in the state and Centre respectively have suspended hydro-projects on Bhagirathi river, a major tributary of the Ganga, in Uttarakashi district not under any public pressure but in a bid to prevent each other from turning it into a poll issue.
Strike hits sanitation, water supply
Dehradun, February 24
The sanitation and potable water arrangements were affected in the city as the stir by the local bodies' employees began today. They were seeking sixth pay commission benefits. While the potable water supply was affected at Jogiwala, Pithuwala and other areas, sanitation was also at compete disarray.
Guide's Murder: Hotel body threatens strike
Mussoorie, February 24
Demanding the arrest of the culprits behind the murder of a hotel guide, the hotel employees' union has threatened to go on an indefinite strike from March 1. The angry union workers stormed the police station and shouted slogans against the police.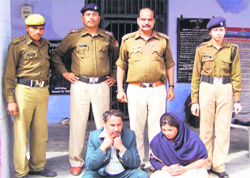 Couple held for robbing NRI
Haridwar, February 24
Haridwar police today arrested a couple who have stolen the luggage, which had a cash worth Rs. 1,25,000, of an NRI who resides in New Zealand. Police nabbed the couple with the help of video footage. The luggage belonged to Gayatri Ram Prasad was on a visit to Mansa Devi temple in Haridwar wherein during the puja they found their bag and purse missing.

The couple in police custody in Haridwar on Tuesday. A Tribune photograph
ASI seeks help for protecting ancient temples
Roorkee, February 24
The Archaeological Survey of India (ASI) has sought help of the Central Building Research Institute (CBRI) to protect ancient temples of the region. Sporadic earthquakes have caused severe damage to famous ancient temples - the Gopinath Temple at Gopeshwar and the Sun Temple in Katarmal (Kumaon region).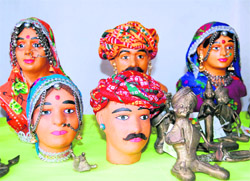 Tribal art on display
Dehradun, February 24
The tribal cooperative marketing development federation (TRIFAD) in alliance with the state government enterprise Garhwal Mandal Vikas Nigam (GMVN) is running a store showcasing beautiful handcrafted items by the tribals. TRIFAD, a Central government organisation, was established in 1988 with an aim to work for the welfare of the tribals.

Handicrafts on display at the TRIFAD store in Dehradun. A Tribune photo: Anil P. Rawat
Workshop on biodiversity informatics
Dehradun, February 24
For popularising bio-informatics and GIS, a two day workshop on Application of Biodiversity Informatics in Forestry started today at the Forest Research Institute's newly constituted Bio Informatics Center.
Encourage curiosity in kids: Expert
Dehradun, February 24
There is a general tendency in our society to discourage curiosity and the first victims of this habit are children.
Sports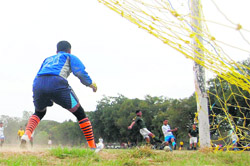 Sunderwala boys cruise to victory
Dehradun, February 24
It was an easy 2-0 victory of Sunderwala Boys team over 2 Garhwal Rifles at the 17th Narayan Gurung Memorial Football Tournament at Mahendra Ground, here today. Sunderwala team made some strategic moves from both the flanks.

Players in action during the match in Dehradun on Tuesday. A Tribune photograph
Jr national camp from April, says Whatmore


Dehradun, February 24
If everything goes well, the National Cricket Academy (NCA) will soon be hosting a junior national camp here. While making an announcement in this regard, former Australian batsman and NCA director Dave Whatmore said that the camp would be held from mid-April to May-end.
Dave Whatmore