Nagar palika, Jal Sansthan staff protest
Mussoorie, February 16
Employees of Nagar Palika and Jal Sansthan went on a one-day strike today. The strike was to demand salary scales as per 6th Pay Commission recommendations.
Leopard kills 5-yr-old
This is the fourth child that has been killed by a leopard this month
Dehradun, February 16
A leopard killed a five-year-old boy, Virendra, on Sunday morning in Loharbagoan taking the death toll of the children, killed by leopard in Kumaon region, to four within the month of February.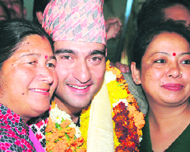 Sing along with this Armyman
Kapil Thapa was among the top
three contestants at the reality
show 'Indian Idol'
Dehradun, February 16
Three months ago, he was an ordinary
Army jawan, but Kapil Thapa, from
the Gorka Rifles, today returned home
as a celebrity.

Kapil Thapa with his family members in Dehradun on Monday. A Tribune photograph

Soon, satellite sub-centres in hospitals
Dehradun, February 16
The Health Minister Dr Ramesh Pokhriyal Nishank today said to institutionalises delivery cases, the Health Department was planning to set up Satellite Health Sub-centres in the state.
Shiv Sena to contest all 5 LS seats
Haridwar, February 16
In a move to make a foothold in the state, Shiv Sena has decided to field its candidates in all five parliamentary constituencies.
Cong welcomes interim budget
State Congress media incharge Suryakant Dhasmana said by not introducing any new tax, the UPA government had revealed its sensitivity towards people
Dehradun, February 16
The state Congress has welcomed the interim Union Budget 2009-10 asserting that the budget would render impetus to development in the country.
RIMC cadets given commendation cards
Dehradun, February 16
Keeping the tradition of glory alive, six members, including three cadets, from the Rashtriya Indian Military College (RIMC) have been conferred with the GOC-in-C Commendation Card for their exemplary performance in various fields.
Shias remember Imam Hussain
Dehradun, February 16
The Shias today took out 'Chehllum' procession in the memory of martyrdom of Imam Hussain here.
DAV cagers defeat KV Club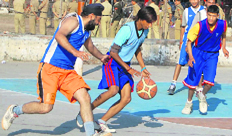 Dehradun, February 16
DAV (PG) College made a good start at
the 25th RK Shukla Memorial Basketball
Tournament defeating KV Club by a
margin of 24 points on the first day
here today.

Players in action during the match in Dehradun on Monday. A Tribune photograph

Pan Business thump AG U'khand
Dehradun, February 16
Pan Business List Pvt. Ltd team today register a 253 runs victory against AG Uttarakhand at the 57th District Cricket League at OFD stadium here.
GAIL wins by 6 wickets
Dehradun, February 16
The GAIL team won match against MRPL team by six wickets at XXIX PSPB Inter Unit Mini Cricket League 2009 underway at Abhimanyu Cricket Stadium, here today.
Ritika wins 100m sprint
Haridwar, February 16
In a two-day annual athletic meet held at Girls Gurukul College, Ritika emerged as the fastest sprinter clocking 16 seconds in the 100-metre dash.