Prepare for more snow & rain
Dehradun, February 11
For Uttarakhand, today was a welcome Wednesday morning. People woke to a wintry day as rain and snow brought the dry spell in the state to an end.
SDMs to give blankets to poor
Dehradun, February 11
The District Magistrate (DM) has instructed all Subdivisional Magistrates to ensure that the destitute in their areas do not succumb to cold weather.
Ailing CM puts off rallies
Roorkee, February 11
"Uttarakhand politics is altogether different from Uttar Pradesh. All major political parties, especially the Congress and Bahujan Samaj Party (BSP) should understand this", said BJP district president (Haridwar) Mayank Gupta today.
Man-eater captured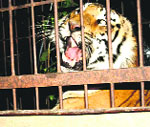 Dehradun, February 11
The man-eater tiger that killed a woman in the buffer area of Corbett Tiger Reserve on February 4 was captured on the wee hours of Wednesday. The wild cat was then taken to Nainital Zoo for rehabilitation. "The tiger was tranquilised and caged at around 3 am," Corbett sources said. Acting on National Tiger Conservation Authority guidelines, the tiger was taken to Nainital zoo under the guidance of Wildlife Institute officials.
LPG consumers block traffic
Haridwar, February 11
Despite claims by Uttarakhand Food and Supplies Minister Diwakar Bhatt that LPG cylinders would be available at the consumer's doorstep in Haridwar, the scenario is quite different.
200 liquor bottles seized
Haridwar, February 11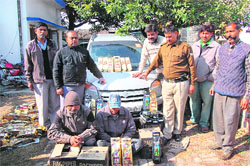 In a span of four days, the police has seized another illegal liquor casket being driven into the city from Haryana. Last week, the police had seized 238 bottles of English wine from Bahadrabad, while today at Shivalik Nagar Barrier the police seized 200 bottles of English liquor from Vijay, a resident of Nagal village and Rohit of Anjala village, Haryana.
The car in which illegal liquor was being carried by the accused in Haridwar at excise department office. A Tribune photograph
Filmmakers are not reformers, says Amir


Mussoorie, February 11
Cine star Amir Khan today said it was wrong to equate filmmakers to reformers as former primarily aimed to entertain the society. Delivering the lecture entitled "Role of Media in Changing Society" to the civil services probationers at Lal Bahadur Shastri National Academy of Administration in Mussoorie, Amir Khan strongly objected equating film makers to reformers while pointing out that entertainment was certainly high in the agenda in the process of film making and thus equating them to reformer was in appropriate.
Cops set to take on moral police
Roorkee, February 11
Amidst the threats, it seems that the love-struck couples would not celebrate the forthcoming Valentine's Day openly with fervour and enthusiasm.
Slowdown has little impact on hotel mgmt students
Dehradun, February 11
Economic slowdown may have squeezed employment opportunities in the hospitality industry but Dehradun has remained unaffected if the number of hotel management students selected by the leading hotels of the country in the campus interviews is any indication.
IGNOU starts BPO courses
Entrance test will be held on February 13 and 15
Dehradun, February 11
To make education market driven, Indira Gandhi Open University (IGNU) has started a degree and certificate course in Business Processing Outsourcing Service (BPO) for which two centres have been activated at Dehradun and Haldwani.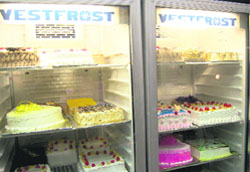 Tempting hearts
Dehradun, February 11
With a few days to go for Valentine's Day, orders for special cakes have started pouring in at various confectionary shops of the town. The week's first biggest order has been placed with Ellora's in the form of a 25 pound, heart-shaped cake.


Valentine's cakes at a bakery in Dehradun. Tribune photo: Anil P. Rawat
Doctors may boycott OPD from Feb 16
Dehradun, February 11
The government doctors have threatened to boycott of OPD in all hospitals from February 16, if their demands are not met.