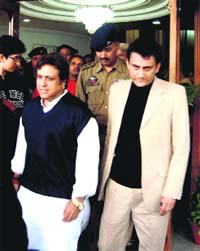 Bollywood star and MP Govinda at Katra on his way to Vaishno Devi on Sunday. Tribune photo: Anand Sharma
Medical camp held for ex-servicemen
Udhampur, March 1
In yet another effort to contribute to the welfare of ex-servicemen of the state who have rendered yeoman service to the nation, an ex-servicemen interaction was organised under the aegis of Air Defence Brigade today.
Kashmir varsity VC honoured
Srinagar March 1
Vice-chancellor of Kashmir University Riyaz Punjabi has been conferred Amity Academic Excellence Award at Amity University, Noida. The award comprising a gold medal and a citation was presented to Prof. Punjabi by Sandra Hollis, vice-president, Anglia Ruskin University UK and Professor Gurinder Singh, Pro-vice chancellor, Amity University and director-general Amity International Business School, a spokesman of the Kashmir University here stated.
Railways out to reach more areas in valley
Srinagar, March 1
The Railways is working to extend its network in Kashmir to the hitherto unconnected areas as the people, weary of expensive road transport, have switched over to trains, which costs less than one third and consumes less time than a road journey, in a big way.
Installation of Septic Tanks
Houseboat owners want govt help
Srinagar, March 1
Following HC directions to install septic tanks in their houseboats, the houseboat owners lament at apathy shown by the state government in providing them time-bound assistance.
HC: Migrant workers entitled to HRA, CCA
Jammu, March 1
A Division Bench comprising Justice YP Nargotra and Justice Vinod Kumar Gupta of the Jammu and Kashmir High Court has dismissed a batch of letters patent appeals arising out of various judgements passed on petitions of government employees, who on account of the turmoil had migrated from the valley, by virtue of which they had been held entitled to HRA and city compensatory allowance (CCA).
Awareness programme for slum kids
Jammu, March 1
An awareness programme for slum children at the Juggi-Jhompri Basti in Udhaywalla along the Akhnoor Road was organised by the Child Line, Jammu, wherein as many as 50 children participated.
Rain, snow likely in valley
Srinagar, March 1
After almost a week of shiny days, weather again turned overcast in the valley and maximum temperature dropped by several degrees, though, there were little to no rains.
2 kg charas seized from woman
Srinagar, March1
Two persons, including a woman, were arrested today after the police seized 2 kg of charas from them. Haseena Akhter, a resident of Nayan-Sangam in Anantnag district, was intercepted by the police in the Qamarwari area of the city this morning and 2 kg of charas was seized from her, a police spokesperson said.
35 hurt in bus mishap, protesters block road
Srinagar, March 1
More than 35 persons were injured when a crowded bus turned turtle near Wularhama in Anantnag district today. Police sources said the bus(JK01A-7989)was on its way to Pahalgam from Bijbehara when the driver lost control over the vehicle. The injured has been rushed to several hospitals, some of them in Srinagar, and the condition of five of them is serious.