Talks with Separatists
Mufti questions NC's stance
Udhampur, March 12
PDP patron Mufti Mohammad Sayeed has questioned the credibility and sincerity of the NC's latest stance in pleading for a dialogue with separatists to resolve the Kashmir problem.
Congress finalises probable candidates
Jammu, March 12
In the backdrop of the Lok Sabha poll, the state Congress leaders along with AICC general secretary Hari Prasad, in charge of J&K affairs Prithvi Raj Chavan and party leader Anand Sharma today held a meeting at the residence of Union Minister for Water Resources and PCC president Saif-ud-Din Soz in New Delhi to finalise candidates for three seats in Jammu.
Another maid rescued in Srinagar
Jammu, March 12
After Meera Bai, who was rescued from a Jammu University hostel warden's home some time ago, another case of Sunita Kumari (17), a resident of Mahuari in Jharkhand, has surfaced.
Security up after grenade attacks
Srinagar, March 12
Security arrangements have been geared up in the wake of grenade explosions during the past few days, including two explosions in the city on Tuesday and Wednesday. These explosions have broken a long spell of lull in the valley ahead of the preparations for the forthcoming Lok Sabha elections in the state.
World Kidney Day
Early detection of disease only way out
Srinagar, March 12
In connection with World Kidney Day observed across the globe, a function was organised at Shere Kashmir Institute of Medical Sciences, Soura, here on Thursday.
BEd colleges suffer for want of students
Jammu, March 12
Usually students complain of lack of infrastructure and teachers, the situation is inverse here. Several BEd colleges here are awaiting students.
Pay pending wages, daily wagers ask Power Dept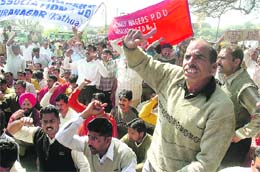 Jammu, March 12
Nearly 3,000 daily wagers, engaged by the Power Development Department (PDD), from various districts of the Jammu region today took out a protest rally here demanding that their services be regularised and their pending wages be released.
Members of the PDD Daily Wagers Association protest in support of their demands at Indira Chowk in Jammu on Thursday. Tribune photo: Anand Sharma
Protest against police inaction
Udhampur, March 12
Chenani residents held a protest here today against the failure of the police to arrest Sanjeev Kumar, husband of Rajni Devi who died under mysterious circumstances at her in-laws house on March 9.
Over 2.27 lakh cases pending
Jammu, March 12
Over 2.27 lakh cases are pending in subordinate courts and the High Court in Jammu and Kashmir, which is facing a shortage of judicial officers. "As many as 2,27,609 cases are pending in various courts, including 48,827 in the High Court," a senior Law Department official said here today.
Hizbul ultra arrested
Srinagar, March 12
A suspected Hizbul Mujahideen militant was arrested on Thursday by the security forces in Baramulla district, a police spokesman said here. Siraj-ud-din was arrested by a joint party of the police and 29 Rashtriya Rifles from his house in Andergam village of Baramulla, the spokesman said.
Preserving Ecology
Amarnath board to involve school kids
Srinagar, March 12
Observing that the preservation of ecology is a fundamental challenge, Governor NN Vohra has said Shri Amarnath Shrine Board will take a firm initiative in funding eco-awareness-cum-conservation campaigns and supplementing the afforestation programmes in selected areas.
2 motorcyclists die in mishap
Jammu, March 12
Two motorcycle-borne youths died on the spot after their vehicle collided with a minibus in Miran Sahib, near here, this afternoon. The police said Sunil Kumar of Khepar and Rocky of Kalyana rammed their bike into a minibus (JK02R/4831) near Talli Morh in Miran Sahib.
Drug de-addiction camp ends
Jammu, March 12
Around 20 intravenous drug users got treated in the drug de-addiction camp which concluded today at Bhagwati Nagar. According to the statement issued here today, a number of clients registered in this 8-day long camp.