Pak devotees pray to Syali Baba
Jammu, March 19
Devotees from Pakistan today converged near the Sangral border outpost in RS Pura sector during a mela to offer prayers to Sain Syali Baba, popularly known as Nau Gaja Pir.
Sowa-Rigpa to be 'recognised' soon
Leh, March 19
"The recognition of Sowa-Rigpa under Ayush as a medicinal system is in the final stage," said Dr Padma Gurmet, member secretary of the panel of experts committee on Sowa-Rigpa constituted by the Union Health Ministry.
Stopping subsistence allowance to migrants illegal: HC
Jammu, March 19
A Division Bench comprising Chief Justice Barin Ghosh and Justice MA Mir, while dismissing an appeal filed by the state of Jammu and Kashmir, has held that "there is no scope for interference with the judgement and the order under appeal except that the reliefs granted by the judgement and the order would count from the date of presentation of the writ petition and not prior to that.
Survivors recount Chittisinghpora massacre
Jammu, March 19
The memories of the horrific killing of 35 Sikhs in Chittisinghpora village in Anantnag district on March 20, 2000, are still fresh in the minds of two survivors. Nanak Singh was one such survivor, who despite sustaining a bullet injury in his thigh managed to save his life. It was around 7:45 pm when some gunmen in Army fatigue entered our village and asked all men to come out of their houses.


Nanak Singh


Karamjeet Singh
Disaster Management
Cops undergo training
Srinagar, March 19
The Kashmir divisional administration organised a disaster management training programme, followed by a mock drill, for 150 police commandos at Police Training School, Manigam, in Ganderbal district today. The programme was organised in collaboration with the United Nations Development Programme (UNDP).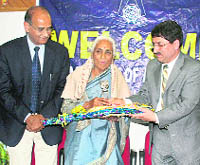 Four Dogri writers felicitated
Jammu, March 19
Four dignitaries of Dogri language were felicitated by the Jammu and Kashmir Academy of Art, Culture and Languages (JKAACL) in a function held at K L Saigal Hall today. The function was presided over by secretary, Cultural Academy, Zafer Iqbal Manhas while additional secretary Savita Bakshi was also present in the function.

Renowned Dogri writer Ved Kumari Ghai is felicitated in Jammu on Thursday. Photo: Inderjeet Singh

Health Scenario Grim
One health unit for 3,097 persons
Jammu, March 19
Though Chief Minister Omar Abdullah picked up from where his predecessor Ghulam Nabi Azad had left speeding up completion of health infrastructure in the state, dismal health scenario in the government sector has not changed much.
Fire engulfs Shivalik forests
Jammu, March 19
Fire broke out in Shivalik forests in Sidhra belt on the outskirts of Jammu here today.
LS Poll
BJP fields Leela Karan, Nirmal Singh
Jammu, March 19
The BJP today announced Leela Karan Sharam and Dr Nirmal Singh as its candidates for Jammu-Poonch and Doda-Udhampur Lok Sabha seats, respectively.
Govt helpless in protecting people: Mufti
Jammu, March 19
Former Chief Minister and PDP patron Mufti Mohammad Sayeed has accused the present coalition government for being pathetically helpless in safeguarding the life and dignity of people.
Holidays on poll days
Jammu, March 19
The government has declared public holidays on the election days. April 16 would be a public holiday in Jammu, Rajouri, Poonch and Samba districts; April 23 in Udhampur, Doda, Kathua, Ramban, Kishtwar and Reasi districts; April 30 in Anantnag, Pulwama, Kulgam and Shopian districts; and May 7 in Srinagar, Budgam and Ganderbal districts. May 13 would be a public holiday in Baramulla, Kupwara, Bandipora and Leh-Kargil districts. — TNS
Panthers to woo support for Bhim Singh
Jammu, March 19
The Jammu and Kashmir National Panthers Party is in talks with the BJP for garnering support for Bhim Singh as a consensus candidate from the Udhampur Doda Lok Sabha seat.
BSP meeting on LS poll
Jammu, March 19
The BSP organised a workers' meeting here today to chalk out a strategy for the upcoming general election for the Jammu Poonch Lok Sabha seat. The party has decided to field Ch. Hussain Ali Wafa from Jammu Poonch constituency.
Gangs of thieves busted
Jammu, March 19
The police busted three gangs of thieves and vehicle lifters during the past 24 hours, which had been operating in the city. Gold ornaments worth Rs 6 lakh and nine motorcycles had been seized, the police said. The vehicles had been stolen from different parts of the city.
Farmers' tour flagged off
Udhampur, March 19
Udhampur chief agriculture officer Choudhary Partap Singh flagged off a week-long tour of 35 farmers of the district here today.
Two held for raping challenged woman
Jammu, March 19
The Narwal police today arrested two persons for allegedly raping a mentally challenged woman in a truck (JK02J/9951) in Rajeev Nagar.
Hizb ultra arrested
Srinagar, March 19
A Hizbul Mujahideen militant was arrested from Gandherbal district by the police here today.