BSP woos Gujjars, Rajputs
Udhampur, March 20
Even as its Dalit vote bank is eroding in the state with every passing day, the BSP has initiated serious steps to woo Gujjars and Rajputs to implement its social engineering concept of UP in the state.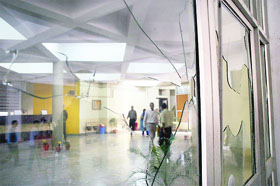 Ex-MLC's son opens fire in JU
Jammu, March 20
Panic gripped students of Jammu University (JU) today after the son of former MLC Deepinder Kour opened fire from a revolver on the university campus, injuring a student and a security guard.
Broken windowpanes of the Jammu University administrative block after a bloody clash on Friday. Photo: Inderjeet Singh

BJP decision to field Leela, Nirmal infuriates RSS
Udhmapur, March 20
The BJP's decision to field Leela Karan Sharma and Dr Nirmal Singh from Jammu-Poonch and Udhampur-Doda Lok Sabha seats, respectively, has infuriated the RSS.
Leela for citizenship rights to PoK refugees
Jammu, March 20
State BJP president Ashok Khajuria introduced Leela Karan Sharma, party candidate from Jammu-Poonch, and Dr Nirmal Singh, candidate from Doda-Udhampur, in a press conference here today. He also explained the BJP's election agenda.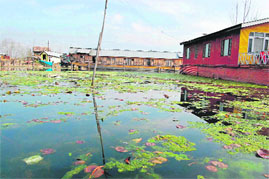 Despite court orders to improve the sanitary condition of Dal Lake, garbage keeps flowing afloat in the lake as the picture depicts. Tribune photo: Amin War

MC to impose house tax
Jammu, March 20
In view to keep the city clean and green, the Municipal Corporation (MC) for the first time would soon impose the house and sanitation tax on its residents. The MC will charge Rs 30 as sanitation fee and 50 paise per sq ft of a house will be charged as tax per annum.
MBA student drowns
Udhampur, March 20
An MBA student from Bihar reportedly died under mysterious circumstances at Samroli near Udhampur on the Jammu-Srinagar national highway today. The student identified as Rohit Kumar drowned in Toldi Nullah — a tributary of Tawi River — and his body has not been recovered yet.
Women's panel to rape victim's rescue
Jammu, March 20
Taking serious cognizance of the rape of a mentally challenged woman in Rajeev Nagar here yesterday, the State Commission for Women (SCW) has decided to take up the case with the police, SCW secretary Hafiza Muzaffar told The Tribune.
Strengthen NCC activities: Vohra
Jammu, March 20
The Deputy Director General, National Cadet Corps (NCC), Jammu and Kashmir, Brig Anil Gupta, today called on Governor NN Vohra and briefed him about the current activities of the NCC in the state.
Training programme for farmers
Jammu, March 20
Director Of Agriculture, Jammu, Vinod Bala Sharma inaugurated a three-day training programme for agriculture extension officers and circle-level junior agriculture assistants at Agriculture Complex in Talab Tillo today.
Jawan dies of burn injuries
Srinagar, March 20
An Army jawan today died of burn injuries in Kupwara district, a police spokesman said.
Panthers to name other candidates soon
Jammu, March 20
After the Jammu and Kashmir National Panthers Party failed to reach an agreement with the BJP over considering JKNPP supremo Bhim Singh as a consensus candidate from the Udhampur Doda parliamentary segment, it would shortly name the candidates for the remaining five LS seats as well.
Security reviewed
Jammu, March 20
A core group meeting of top army and civil officers was held at the Nagrota-based 16 Corps headquarters to review the security situation . The meeting was chaired by Lt-Gen RK Swamy, GOC ,16 Corps, who is also the security adviser to the state government .
Vohra greets people on Nauroz
Jammu, March 20
Governor NN Vohra has extended greetings to the people of the state on the occasion of Nauroz. In his message of felicitations, the Governor said the festival had both cultural and religious significance. He said the day was also observed as World Arbor Day and all of us should join hands in planting more trees for preserving the environment.
Polling begins for CTA chief's post
Jammu, March 20
The College Teachers Association (CTA) elections for the post of president began today, with six candidates in the fray for the post.