Major killed in gunbattle
Srinagar: An Army officer was killed and a soldier injured in an encounter with militants at Hafrada forest in Kupwara district of Jammu and Kashmir on Saturday night, official sources said. Acting on a specific information that militants are hiding in the forest area, Army troops, assisted by the local police, launched a search operation triggering the gunbattle in which Major Mehak was killed and Havildar Rakesh Kumar injured, the sources said. The encounter was still going on, they said.

Cong all set to field Madan, Lal Singh
Jammu, March 21
Though the Congress is yet to officially announce the names of candidates for the Lok Sabha seats in the Jammu region, it has been learnt that the party has already decided to field sitting MP Madan Lal from Jammu-Poonch and Lal Singh from Udhampur-Doda seats.
JU forms panel to probe firing incident
Ex-MLC's son yet to be arrested
Jammu, March 21
Jammu University today constituted a four-member committee to probe into the firing incident that took place on its campus yesterday. The committee would submit its report within a week.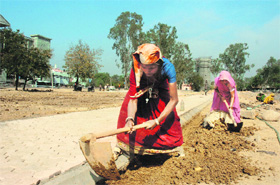 Turning nullahs into green belts
Jammu, March 21
The J&K Economic Reconstruction Agency (ERA) which runs a multi-sector project for infrastructure and rehabilitation in Jammu and funded by Asian Development Bank for its project, has taken an initiative in turning huge nallahs in Jammu city into a green belt.
Labours work in newly constructed park in the green belt area of Trikuta Nagar in Jammu. Tribune photo: Anand Sharma

6 families to get benefit under SRO 43
Jammu, March 21
Six Hindu families, who lost their dear ones in a dastardly militant attack in the Sarote area near Ladder village of Kishtwar district in August 2001, will finally either get government jobs or additional cash relief of Rs 4 lakh each under SRO 43.
Mayor wants control of revenue-earning depts
Jammu, March 21
The Jammu Municipal Corporation is striving for financial autonomy. The corporation is in the process of reorganising the corporation on the pattern of Municipal Corporations of rest of the country.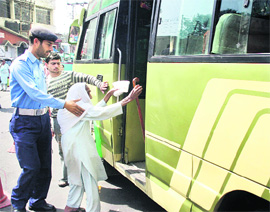 A traffic policeman helps an old woman board a bus in Jammu on Saturday. Photo: Inderjeet Singh

LS Poll: PDP to contest all 6 seats
Jammu, March 21
The PDP has decided to go it alone and field candidates from all the six Lok Sabha seats in the state. The party that will contest on all six seats--three in Kashmir division, two in Jammu and one in Ladakh--is hopeful to garner support from people.
Focus on steps to popularise Dogri
Udhampur, March 21
Dogri writers from all over the country gathered in Udhampur today and deliberated upon various aspects to popularise Dogri language. The language has already been included in the eighth scheduled of the Indian Constitution.
AISAD to field five candidates
Jammu, March 21
The All-India Shiromani Akali Dal (AISAD) headed by Jaswant Singh Mann has decided to field five candidates in the state during the upcoming parliamentary elections.
Dogri, Urdu poets take part in literary meet
Jammu, March 21
The Adbi Kunj, Jammu, held a multilingual literary meet at its centre here yesterday. The meet was presided over by Urdu and Dogri poet and writer OP Shakir, while Prof Ved Parkash, organiser of the Kranti Vikas Manch, was the chief guest.
Chain snatching cases on the rise
Jammu, March 21
Even as the police finds it hard to contain incidents of chain snatching, unidentified chain snatchers targeted the wife of the Deputy Chief Electoral Officer Harcharan Singh in the Sainik Colony area here on March 17.
Panthers' silver jubilee tomorrow
Jammu, March 21
The Jammu and Kashmir National Panthers Party (JKNPP) will celebrate its silver jubilee at Kathua on March 23.
College celebrates Annual day
Jammu, March 21
An annual day function was celebrated at Government College for Women, Parade, today. Commissioner Secretary Higher Education VK Sharama was the chief guest whereas Director Colleges ND Wani was the guest of honour on the occasion. The function started with the lightening of traditional lamp by the chief guest. College principal Savitri Sahrma presented the annual report of the college.
Girls await their turn to perform during the annual day celebration at Government College for Women in Jammu on Saturday. Photo: Inderjeet Singh

NCP leader joins PDP
Jammu, March 21
State NCP secretary Rajinder Koul and Raj Mohni Sharma along with their supporters yesterday joined the PDP.