Evicted family alleges conspiracy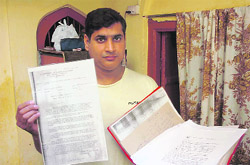 Jammu, March 26
A displaced Muslim family, which had been forcibly evicted from a piece of land on March 16 here, alleged that the Evacuees Property (EP) Department has hatched a conspiracy in connivance with the security wing of the state police against them.


Manzoor Hussain Salaria, son of Abdul Karim Salaria, produces documents to support his claim to land in Jammu on Thursday. Tribune photo: Anand Sharma

Vohra for using ex-servicemen's experience
Jammu, March 26
Governor NN Vohra today said: "The ex-servicemen are a rich repository of experience, skills and technical expertise in variant fields and that the inherent potential of this vast reservoir of talent needs to be gainfully exploited not only for providing them an opportunity to embark upon their second careers but to also optimally benefit society at large."
Rain brings respite from aphid disease
Udhampur, March 26
As a prolonged dry spell has badly affected mustard crop, rain yesterday brought smiles on the faces of farmers in the higher reaches of Udhampur district.
Honouring human rights 'vital'
Jammu, March 26
Despite the State Human Rights Commission (SHRC) being dubbed as a "canine-less tiger", its chairperson Justice Syed Bashir-ul-Din has said human rights was a vast concept that encompasses respect for rights of the people as well ensuring safety of lives and property of the public at large.
Biodiversity loss worries experts
Srinagar, March 26
Expressing dismay over damage caused to various forms of biodiversity in Kashmir, Prof Reyaz Punjabi, vice-chancellor, Kashmir University, said today that developed countries like France and Britain had preserved their bio-diverse resources. "Some years back, the taste of vegetables and the fragrance of pulses were great, but that is missing today.
Omar, Vohra greet people
Jammu, March 26
Chief Minister Omar Abdullah and Governor NN Vohra have extended warm greetings to people on the auspicious occasion of Navratras and Navreh. The Chief Minister said the Navratras had a special significance in the state as it became the pilgrim destination for innumerable devotees from all over the country, who come and pay obeisance at the holy shrine of Mata Vaishno Devi. Both also felicitated Kashmiri Pandits, who celebrate the day as Navreh, the beginning of the new-year and onset of spring in Kashmir. —TNS
Take people's problems on priority, CPM to CM
Srinagar, March 26
State CPM secretary and legislator MY Tarigami has urged the political forces in the state to work for building peace and ensuring development. Addressing a public meeting in his home constituency of Kulgam today, Tarigami appealed to all political parties not to make hollow promises as these were seldom fulfilled.
Kidnapped girl recovered
Jammu, March 26
The police recovered a 20-year-old kidnapped girl today and arrested her abductor from New Delhi. Official sources told The Tribune that Anjum Ara (20), a native of Gool, went missing from her house in Nagrota a couple of days back, following which her family lodged a complaint with the police against one Khem Raj. Khem Raj, who belongs to Ramban, too, had been putting up in Nagrota. Sources said both were having an affair but following stiff resistance to their relation by their families they had fled to Delhi. Though the duo would reach Jammu tomorrow but we had recovered the girl and arrested Khem Raj in New Delhi today, a police officer confirmed. —TNS
3 Hizb men held
Srinagar/Jammu, March 26
An overground worker of the Hizbul Mujahideen was arrested with ammunition and explosives in Kulgam district, a police spokesman said. Mohammad Ashraf Khan was arrested by a joint party of the police and the Rahstriya Rifles from his house at Munnad-Yaripora village in the district. He said 850 grams of black powder explosive and 25 rounds of AK ammunition were seized from Khan. The Jammu police arrested two Hizbul Mujahideen militants here yesterday. The arrested militants have been identified as Zaid Ahmed Dar and Ateeq Ullah Dar. — Agencies
Returning officers for LS poll
Jammu, March 26
The Election Commission has notified returning officers for conducting elections to the six Lok Sabha seats in the state. Deputy Commissioner, Baramulla, Abdul Latief Deva will be the returning officer for the Baramulla constituency.
Panthers allege conspiracy in revised rolls
Jammu, March 26
Legislative party leader of the Jammu and Kashmir National Panthers Party (JKNPP) Harsh Dev Singh has alleged a deep-rooted conspiracy by the government in the recent revision of electoral rolls of the Assembly and parliamentary constituencies.
Leaders shift loyalties ahead of poll
Srinagar, March 26
With the forthcoming Lok Sabha elections, political leaders have started shifting their loyalties from one party to another. A former NC MLA Sheikh Mohammad Rafi from Shopian joined the PDP here on March 12 along with several other workers and supporters.
JKNM threatens stir
Jammu, March 26
The Jammu Kashmir Nationalist Movement (JKNM), a conglomerate of 18 organisations of internally displaced Kashmiri Pandits, has threatened to launch a stir if the Election Commission failed to address issues troubling the displaced Kashmiri Pandit community.
State 'ideal' for golf tourism
Jammu, March 26
Minister for Tourism and Culture Nawang Rigizn Jora has said the government contemplates to issue a Vision Document for exploring the tourism potential on various levels in the state.
Co told to return deposits
Jammu, March 26
The J&K State Consumer Disputes Redressal Commission, Jammu, headed by Justice (retd) GD Sharma and BL Saraf, a member, in a significant judgment directed New Life General Finance & Investment Company Limited, Chandigarh, to return the deposits amounting to Rs 1, 48 crore along with 9 per cent interest per annum from date of their respective deposits till the final payment is made.