Navaratra festivities light up city
Dehradun, March 27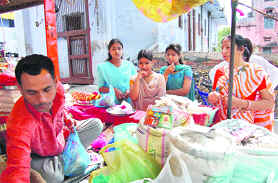 Large number of devotees thronged Durga temples on the first day of Chaitra Navaratras. During navaratras, the nine 'avatars' of Durga are worshipped. "Devotees use honey, cardamoms coconut and red chunri to perform navaratra worship. We are very busy in attending devotees and conducting religious ceremonies at their places," said Aacharya Rajesh of Durga temple.
Devotees buy puja stuff outside Durga temple on first navaratra. A Tribune photograph

Slush clogs Raipur road
Dehradun, March 26

Slush taken out of the drain on Raipur road for repairs before the onset of rainy season has become a bane for vehicular traffic. This is one of the several points identified by the Public Works Department (PWD) for the purpose in the city. Brick lining of the damaged parts of the drain has been on since the past few days, in addition to its widening, to ensure unhindered flow of rainwater during the coming season.
Mud dug out of the drain lying on the Raipur road in Dehradun. Tribune photo: Anil P. Rawat

Rawat outsmarts rivals
Manages ticket for protege too
Dehradun, March 27
With the Congress list of candidates for the Lok Sabha polls in Uttarakhand ready, it is evident that former Uttarakhand Congress chief Harish Rawat has again bounced back with ticket for two seats in his kitty.
Resource centres fail to improve education: Study
Mussoorie, March 27
A recent study has revealed that the Block and Cluster Resource Centres (BRCs and CRCs) under the Sarva Shiksha Abhiyan (SSA) have been able to make a very little contribution in improving the quality of education in Punjab.
English academies pick up in city
Dehradun, March 27
Veta, one of India's popular English training academies, launched its branch in the city two years back and provide different courses as per the need of the students.
NDA clinch hockey tourney
Dehradun, March 27
National Defence Academy (NDA) clinched the trophy of Hexagonal Cup Hockey Tournament played at IMA, here today. NDA defeated IMA team by 5-4 in the finals.
Rain plays spoilsport at sports fest
Roorkee, March 27
Rain played spoilsport during the inauguration ceremony of the Ist All-India Invitational Sports Meet 'Sangram 09' being held at Indian Institute of Technology, Roorkee, here today.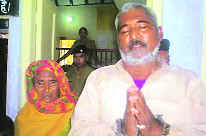 Poacher, wife nabbed
Dehradun, March 27
Notorious poacher Dairya Bawaria, along with his wife Bhagwati Devi, alias Shanti, was today arrested by a team of cops from the Madhya Pradesh police from Ramnagar city area of Uttarakhand.
The accused in police custody in Dehradun on Friday. A Tribune photograph
IG stung by bees
Dehradun, March 27
Honeybees attacked senior police officials during an inspection at Ramnagar police station in the Kumaon region, here today.
Light showers in Doon, mercury dips
Dehradun, March 27
Uttarakhand today experienced light showers causing a fall in the mercury arresting the sudden rise of temperatures.