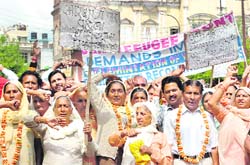 Members of the J&K Refugee Front protest in front of the Divisional Commissioner office at Mubarak Mandi in Jammu on Wednesday. Tribune photo
Demands of 'Muslim migrants' rejected
Jammu, March 25
The Relief and Rehabilitation Commissioner (RRC) has rejected the demands of the All Kashmiri Muslim Migrants (AKMM), who shifted from the valley and settled down in Jammu in year 2002 due to fear of militancy, on the grounds of these being illegitimate. Qayoom Wani, general secretary of the organisation, said, "We shifted from the valley because we were threatened by the militants. We had to shift to Jammu in year 2002. Like other refugees, we too have submitted our demands to the RRC. He has asked us to meet him after a couple of days."
JU overspent crores on auditorium
Jammu, March 25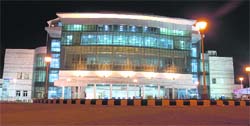 The Jammu University administration has overspent crores of rupees on General Zorawar Singh Auditorium. The amount spent on the complex is even more than the amount granted by the University Grant Commission (UGC).

A view of General Zorawar Singh Auditorium at Jammu University. Tribune photo: Anand Sharma
Economic gain should not be aim of schools: Omar
Jammu, March 25
Chief Minister Omar Abdullah yesterday expressed happiness over the growth in number of private schools in the state. He said the only objective of these institutions should be providing universal quality education and overall personality development of children.
Former MLA Mir joins PDP
Jammu, March 25
Former MLA from Banihal Muhammad Farooq Mir along with his supporters today joined the PDP in the presence of former Chief Minister Mufti Mohammed Sayeed.
I wanted to represent people in LS, says Leela Karan
Jammu, March 25
Tired of barrage of attacks from Hindu wing parties, BJP candidate for the Jammu-Poonch Lok Sabha seat Leela Karan Sharma openly talked about the reasons which made him to switch over from apolitical dais to political career. Leela Karan had recently joined the BJP by resigning from the post of convener of apolitical organisation Shri Amarnath Yatra Sangharsh Samiti (SAYSS).
Kashmiri Pandits meet Mufti
Jammu, March 25
A delegation of Kashmiri Pandits yesterday met former Chief Minister and PDP patron Mufti Mohd Sayeed and apprised him of problems being faced by the community.
Northeast folk artistes feel secure here
Jammu, March 25
A group of 130 folk artistes from North East, who were here on a three-day cultural visit, feel that the situation in Jammu is far better and peaceful as compared to some of the areas wherefrom they belong.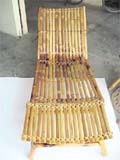 Board strives to expand bamboo market
Dehradun, March 25
With the sole aim to work for the livelihood of the rural population, the Uttarakhand Bamboo and Fiber Development Board (UBFBD), since the year 2004, is striving hard to expand the market of bamboo and other natural fibers grown in the state. One of the main reasons why the board came into existence was to dispel the laid back attitude of public towards this useful grass. Mostly people were unaware that its proper utilisation can boost Uttarakhand's economy and would also provide employment opportunities to the villagers.
Dalal Street journal awards ONGC for high profits
Dehradun, March 25
The Dalal Street Investment Journal has adjudged Oil and Natural Gas Corporation (ONGC) as the "highest profit-making public enterprise".
Temple ropeway fare not fair, says Oppn
Haridwar, March 25
The chairman of the Haridwar Municipal committee, Kamal Johra, and Opposition ward members are at loggerheads, this time on the ropeway fare at the famous Mata Mansa Devi Temple.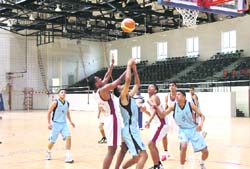 IMA outclass Air Force Academy
Dehradun, March 25
Indian Military Academy won their second consecutive match at the Hexagonal Cup Basketball Tournament defeating Air Force Academy by a margin of 44 points.




Cagers compete among themselves at Hexagonal Cup Tournament underway at IMA, Dehradun. Tribune photo: Vinod Pundir
Doon Tiger Academy cruise into semifinals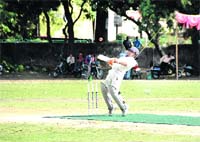 Dehradun, March 25
Doon Tiger Cricket Academy cruised into the semifinal of the 2nd Uttarakhand Cup after defeating SAI Cricket Academy by 17 runs at Ranger Ground, here today.



SAI team batsman evade a bouncer at the 2nd Uttarakhand Cup in Dehradun, on Wednesday. Tribune Photo by Vinod Pundir.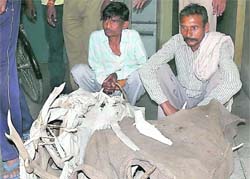 2 held with deer antlers
Dehradun, March 25
In another major crackdown against poachers within a fortnight, the Uttarakhand police has nabbed two persons here and seized 50 kg of swamp deer antlers. Initial investigations revealed that the duo was a part of a bigger poaching racket and as per an estimate, the cost of the antlers seized may run into lakhs of rupees.
Two smugglers caught with antlers of deer in raipur police station in dehradun. A Tribune photo
Man beaten to death by brother-in-law
Roorkee, March 25
Following a scuffle between his sister and brother-in-law at his residence, an agitated youth attacked his brother-in-law with a stick and killed him at Brahmpur Jatt village, around 10 km away from here.
Prostitution racket busted, 5 held
Dehradun, March 26
Busting a prostitution racket, the Dehradun police today raided Malsi Palace Hotel and apprehended five persons, including two women.