Cong has used Muslims: Kohli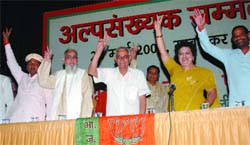 New Delhi, March 25
In view of the ensuing elections, every party is trying to woo Muslim voters. While the Congress and the Bahujan Samaj Party (BSP) are projecting themselves as minority-friendly, the Bharatiya Janata Party's (BJP) minority cell today organised a convention here to mobilise Muslim voters.
Delhi BJP president O.P. Kohli (centre) with Muslim leaders during the party's minority convention in New Delhi on Wednesday. Tribune photo
BSP promises jobs to illiterate
Gurgaon, March 25
The BSP held three public meetings in a single day in Gurgaon raising the political temperature in the city. National general secretary of the BSP and in-charge of the party in Haryana, Chandigarh and Himachal, Mann Singh Manhera, was the chief-guest in these meetings, while BSP MLA Arjun Singh Gujjar was the special guest.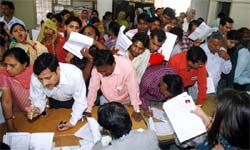 The GREAT VOTERS' RUSH: The huge rush at the election commission office in Gurgaon for voter registration on Wednesday. Tribune photo: Sayeed Ahmed
Slum women leaders honoured
New Delhi, March 25
Though the leading political parties have failed to acknowledge 'female power' by giving proportionate berths to women in their nomination list, many spirited-women from 60 slums and 10 street communities of the Capital, have managed to raise themselves from archaic mindset and male subservience to a pedestal of community leadership.
CNG to cost Rs 3.50 less in Gurgaon
Gurgaon, March 25
People of the millennium city have a reason to rejoice. They will now get CNG without standing in long queues. Like Delhi, the city will also get the gas directly by the pipeline from today.

He married me just for sex: Fiza
Gurgaon, March 25
Fiza (earlier Anuradha Bali) may have been catapulted to fame by former Haryana Deputy Chief Minister Chander Mohan (alias Chand Mohammad) and the media, but as of now, she leaves no chance of lambasting both.

Former Haryana Deputy CM Chander Mohan, alias Chand Mohammad's, ex-partner Anuradha Bali, alias Fiza, addresses a press conference in Gurgaon on Wednesday. Tribune photo: Sayeed Ahmed
Metro workers demand minimum wages
New Delhi, March 25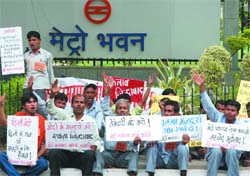 rotesting against the alleged exploitation of Delhi Metro workers by private contractors, the workers held a demonstration in front of the Delhi Metro Rail Corporation (DMRC) office today.



Workers of the Delhi Metro demonstrate outside the Metro Bhawan in New Delhi on Wednesday. They claimed they were not even paid the minimum wages guaranteed to them under the labour laws. Tribune photo: Manas Ranjan Bhui
Protest against attempts to grab graveyard land
Faridabad, March 25
Residents of village Khedi Kalan near here today staged a dharna outside the office of deputy commissioner of Faridabad to protest alleged attempts by some persons to grab a land of the Waqf Board in the village.
Probe against cop for not helping techies being robbed
Noida, March 25
The SSP of G.B. Nagar, Navin Arora, has taken a serious note of the irresponsible behaviour of a sub-inspector who simply watched two female software engineers being robbed by bikers on gunpoint on Monday. The SSP has ordered a departmental inquiry against SI Noor Mohammed.
Man throws 2 daughters in canal, 1 dies
Ghaziabad, March 25
Fed up and frustrated with penury, a man threw his two daughters in Ganga Canal from the bridge under the Murad Nagar Kotwali area.
Labourer dies as factory wall collapses
New Delhi, March 25
One man was killed while four were injured when a wall of a factory in Mangolpuri collapsed today morning.
Bus kills youth
New Delhi, March 25
A 27-year-old motorcyclist was killed in the national capital when a speeding government-run bus hit him from behind, the police said today. 
Five car-jackers held
Noida, March 25
With the arrest of five persons, the Noida police has busted a gang of car-jackers. Five luxury cars have been seized.
Delhi trader abducted
Ghaziabad, March 25
Six men kidnapped a Delhi trader at gunpoint here after dragging him out of his car last night.
Vikas Yadav case
New Delhi, March 25
The Delhi High Court on Wednesday reserved its order on the bail plea of Vikas Yadav, son of Uttar Pradesh politician D.P. Yadav, and his cousin Vishal Yadav, undergoing life imprisonment for killing Nitish Katara five years ago.
Rain plays peek-a-boo
New Delhi, March 25
The pleasant weather and sudden drizzle in some parts of the capital took many by surprise early today.