Soldiers return medals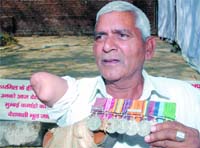 New Delhi, March 14
In pursuit of their demand for 'one rank one pension', retired soldiers of varying ranks today returned 7,500 medals won in combat and for distinguished service, here. Thousands of veterans gathered earlier in the day at the Jantar Mantar observatory in the heart of the national capital for the protest.

A handicapped ex-serviceman returns his medals at Jantar Mantar in New Delhi on Saturday. Tribune photo: Mukesh Aggarwal
Kidney patients walk the ramp in Indo-Western attires
New Delhi, March 14
It was a unique spectacle at Sahara Paradise Banquets in Vasant Kunj that lit the faces of 50 kidney patients with broad smiles. Young names unheard of in the modelling fraternity, forgetting their health status, recreated fashion statements as they walked the ramp with élan and defined elegance. They were all clad in fascinatingly woven Indo-Western attires.
Robotic radio surgery can treat cancer
New Delhi, March 14
Over 10 million people are suffering from cancer globally. India contributes around 8.5 per cent to it. By 2020, the number is expected to rise to around 15 million and over 10 per cent people in India will suffer from the deadly disease, said Dr Anupam Sibal of the Apollo Hospitals.
Noida firms spent Rs 600 cr in 5 yrs on diesel
Noida, March 14
Industries in this satellite town adjoining the national capital have spent nearly Rs 600 crore in the past five years on diesel to run their generators due to constant power cuts.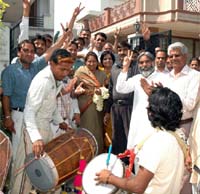 Supporters of BJP candidate Sudha Yadav celebrate after she got ticket from Gurgaon parliamentary seat. Tribune photo: Sayeed Ahmed
New Delhi seat: BJP fails to zero in on candidate
New Delhi, March 14
With differences cropping up among senior leaders, New Delhi has become a hot seat for the BJP regarding distribution of ticket for the parliamentary elections. Even after a number of meetings, the BJP central election committee has not been able to decide who would contest from the seat. And, that is the reason why the party could not announce its list of candidates for Delhi seats, sources said. According to the sources, earlier the party was interested in fielding Hema Malini who is reluctant about contesting elections. The party waited for her nod till Holi. When she clearly refused, the party decided on Prof Jagdish Mukhi, MLA from Janakpuri.
Protest held against criminalisation of politics
New Delhi, March 14

Protesting against the participation of criminals in politics, NGO Nyaya Bhoomi held a demonstration at Jantar Mantar today. The protestors presented a memorandum to BJP president Rajnath Singh demanding a crime-free Lok Sabha poll.

Activists of Nyaya Bhoomi, an NGO, protest against criminals contesting elections, in New Delhi on Saturday. Tribune photo: Mukesh Aggarwal
Case filed against 4 Noida cops for graft
Noida, March 14
A graft case has been registered against five Noida policemen, including a former SHO of Sector-24 police station and four other officers, on a court order.
Youth shot at for teasing girl
Noida, March 14
A 22-year-old youth was critically injured here on Friday night after he was shot at for allegedly misbehaving with a girl two months ago.
Speeding truck crushes biker to death
Noida, March 14
A speeding Tata-407 on Friday night crushed a biker near Morna crossing, killing him on the spot. Shockingly, though a number of policemen were present at a nearby police post, the driver managed to flee with his vehicle.
MNC staff commits suicide
New Delhi, March 14
A 28-year-old man, working with a multinational company, allegedly committed suicide in his house here.
ACP, SHO injured in stone pelting
New Delhi, March 14
Two police officers, including an assistant commissioner of police (ACP), were injured in stone pelting by a mob after carcasses of cows were found in South Delhi.
CBSE Class X Maths paper 'tough, indirect'
New Delhi, March 14
Lakhs of students across the nation who appeared for their CBSE Class X mathematics examination on Saturday pronounced the paper to be "difficult" and "full of indirect questions."