Artscape
Israeli pianist to stage classical concert
Ravi Bhatia
Tribune News Service
New Delhi, March 8
The Embassy of Israel in cooperation with the Neemrana Music Foundation is staging a classical music concert to be performed by Gil Shohat, Israeli pianist, composer and conductor.
As part of his tour, Gil Shohat will be performing in Delhi and Kolkata.
Acknowledged as "the most important and influential personality in classical music in Israel" by the three major Israeli newspapers (Yediot Aharonot, Maariv and Haaretz), Gil Shohat will perform a Piano Recital in Delhi on March 10 at the open air theatre, The Ashok Hotel, Chanakyapuri, here.
Gil Shohat is one of the leading Israeli musicians of his generation and the performer of more than 80 concerts a year worldwide, both as a conductor and pianist. He came to local and international recognition with his opera Alpha and Omega (2001) - the largest original opera production ever staged in Israel - which received enthusiastic reviews worldwide. He is the composer of nine large-scale symphonies, twelve concertos for various instruments, four operas, Oratorios, Cantatas, solo vocal pieces and dozens of chamber and piano pieces. Among several prestigious awards and accolades, Gil Shohat has won the Prime Minister Prize for composition in 2003 and was named Composer of the Year in 2004. Shohat holds the position of the Musical Director and Chief Conductor of the Israel Chamber Orchestra.
Existence is Bliss
Dhoomimal gallery, a platform for showcasing the works of established and upcoming artists from all over the country, is showcasing Nidhi Aggarwal's solo art exhibition, titled 'Existence is Bliss'. It is an exhibition of contemporary Indian arts that celebrates the spirits of colours from March 4 to 14.
According to critics, her use of colours as well as stroke play are now confident, energetic and in a way not bound by restrictions and seem to come naturally and instinctively, giving her works a bold and magnificent character.
Though her works are contemporary, she uses objects that we encounter in our daily lives like, music systems, or cigars along with other human forms. Also her colours such as bright yellow or red or dark blue and pink have a lot of life in them and present a very happy and vibrant picture to the viewer.
Sitar and cello duet
Chinmaya Mission Delhi is presenting internationally acclaimed musicians, Pt. Shubhendra Rao and Saskia Rao-de Haas, in a unique sitar and cello duet as a part of their annual music festival "Jai Bharti –Iv, Nada Bindu Festival" on March 13 at the Chinmaya Centre, 89, Lodhi Road, here.
A Colourful Arena
Galerie Art Eterne is presenting A Colourful Arena in the Midst of Heat –II by artist Devajyoti Ray from March 7 to March 21 on its premises in Lado Sarai.
Devajyoti Ray's work does not require any external help to view, a triumph of simplicity yet lucid in its presentation, the images wait to enter into a dialogue with the viewer.
Though it appears simple, the depth of his understanding is visible in the vivid portrayal of his images springing out from the canvases in poetic fervour.
Photo exhibition on TB
Lilly MDR TB Partnership and Lokayata Art Gallery are organising a photo exhibition on TB- "Because I Care – I am Stopping TB" from March 9 to 12 at the Lokayat, Hauz Khas. The photographs are the artistic creations of Subhash Sharma, the renowned humanistic and documentary photographer. The exhibition aims to create awareness about the present situation of TB in India.
Remembering Kamaladevi
The Centre for Mohiniyattam here is organising a two-day festival to pay tributes to the legendary Kamaladevi Chattopadhyay at the India Habitat Centre here on March 9 and 10. A number of well-known artistes from across the country are participating in the festival. Mohiniyattam is an ancient dance form from Kerala.
Mango Cherry Mix
The Indian Council for Cultural Relations (ICCR) is organising "Mango Cherry Mix", a dance performance by Indian artiste Navtej Johar and Japanese dancer Miyamoto at the Kamani Auditorium, here, on March 10.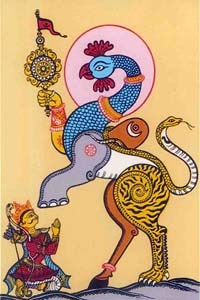 Nav Gunjar, an installation by artist Vishal K. Dhar, showcased at the British Council, New Delhi. Nav Gunjar is an avatar of Krishna, a creature composed of nine different animals.
Nav Gunjar showcased
Nav Gunjar, an installation by artist Vishal K. Dhar, is being showcased at the British Council, here, from March 12 to 14.
Nav Gunjar is an avatar of Krishna, a creature composed of nine different animals. It emphasises the fact that all human beings are connected and form part of a larger organism.
Vishal K Dar, an architect by profession, has taught at his alma mater, the University of California, Los Angeles in the United States, and won many prestigious awards.
Photographic exhibition
"Art for Prabhat @ Zaza Space" is hosting a photographic exhibition by Ajay Rajgariah, Malovika Andrew, Sandeep Biswas, Sunando Mazumdar, Laurent Goldstein, Shashwat Nagpal, Udit Kulshreshta, Neeraj Mahajan and Hirak Kanti Dutta from March 6 to 19.