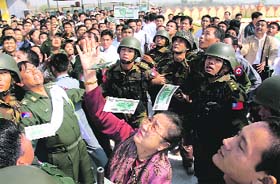 Myanmar leader General Than Shwe's wife Daw Kyaing Kyaing (C) throws bank notes in the air as she donates money during a consecration ceremony of the Uppatasanti Pagoda, a repica of Yangon's famed Shwedagon Pagoda, in
Mayanmar's administrative capital of Naypyidaw on Sunday. — AFP
Mutiny masterminds still want civil war: Hasina
Dhaka, March 8
Bangladesh Premier Sheikh Hasina has said the recent mutiny in the paramilitary force BDR which killed 73 "brilliant" army officers was aimed at triggering a civil war and warned that the masterminds behind the bloody revolt still wanted to achieve their goal.
Swat girl dreams of going to school
Islamabad, March 8
A Pakistani schoolgirl from the troubled Swat valley, who has been writing a diary after Taliban militants there ordered schools to close as part of a move banning girls' education, is keeping her fingers crossed for a peace deal between hardliners and the government.


Recession: Dont' mind, it's just in your mind?
The best way to beat the recession is to be optimistic. True. If you don't believe it, try that most erudite of publications, 'The Economic Journal'. Recession is largely caused by widespread pessimism among businesses and individuals, rather than being the result of any inherent systemic problems.

Barbie turns 50
New York, March 8
Even after living for five decades as an international jet-setter, Barbie still looks like a well-toned teenager. She's easily able to pull it off. After all, her 29-centimetre body is made of plastic.

Happy B-Day: The Barbie doll, which debuted on March 9, 1959, will celebrate its 50th anniversary on Monday. — Reuters
Ban on US funding for stem cell research lifts today
Washington, March 8
US President Barack Obama is due tomorrow to scrap a ban on federal funding for embryonic stem cell research, a move already delighting scientists and vexing conservatives. Following up on his campaign promise, Obama will sign an executive order to reverse the ban introduced by his predecessor George W Bush eight years ago.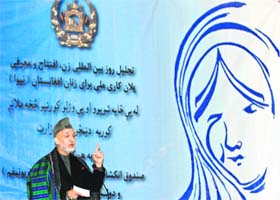 Afghan President Hamid Karzai speaks during a ceremony to mark International Women's Day in Kabul on Sunday. Women and girls in Afghanistan face the toughest conditions in the world, relief group CARE said on Sunday, more then seven years on since the Taliban's ouster. — Reuters
MJ still a heart-throb
London, March 8
King of Pop Michael Jackson still seems to be his fans' heart-throb, as his admirers mobbed the superstar while he took his children out for a play in London. The 50-year-old pop star was mobbed by screaming fans as he took his two youngest children to see "Oliver!" at The Theatre Royal, West End, reported the dailymail.co.uk.
Hindu relic stolen from Thai museum
Bangkok, March 8
An ancient bead featuring the Hindu sun god Surya was stolen while on display at Thailand's National Discovery Museum Institute, media reports said yesterday. The stone bead, estimated to be 2,000 years old, was stolen on Thursday from the Bangkok museum, where it had been on display since December 19.
Beware! diabetes can lead to dementia
London, March 8
Blindness, renal failure, stroke and heart disease are potential outcome of type 2 diabetes, which currently afflicts more than 15 million Americans. Now research from Tel Aviv University (TAU) has found something more worrisome: it can also accelerate mental decline and dementia.
George Orwell was in 'love with his pal's girl'
London, March 8
George Orwell, considered 20th century's best chronicler of English culture for his works in many different genres, got involved in a "love triangle" when he fell in love with his closest pal's girlfriend. Handwritten letters by Orwell to the duo have revealed that Orwell began a "secret relationship" with Eleanor Jaques, the girlfriend of his best friend Dennis Collings. Jaques and Collings got married later.
UK village up for sale for £22 m!
London, March 8
Imagine settling down in your own village after retirement, spending time farming or watching a cricket match in your private stadium, and going for a stroll in the evening to buy necessary items from your personal shop.
FBI team to probe BDR massacre
Dhaka: A two-member US team of the FBI arrived in the capital on Sunday to assist the probe into the mutiny and the massacre of 73 army officers at the paramilitary BDR headquarters, a US envoy here said. "They would carryout a preliminary survey and according to their report the FBI would fix what they could do in investigating the matter," US ambassador James Moriarty said. — PTI