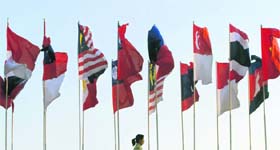 A woman walks past flags of the member nations ahead of the 14th Association of Southeast Asian Nations Summit in the Thai resort city Hua Hin, about 200 km south of Bangkok, on Friday. Southeast Asian economic ministers ratified a major free-trade area with Australia and New Zealand, while seeking to downplay fears of protectionism as global economic conditions worsen. — Reuters
Dhaka Mutiny
Mass grave unearthed
Killers won't be spared, says Hasina
Dhaka, February 27
A mass grave of at least 38 massacred army officers was today uncovered in the Bangladesh Rifles headquarters here, a day after the rebelling soldiers surrendered and a shocked Prime Minister Sheikh Hasina said those responsible for the killings would not be spared.
Armed forces to be kept out of politics: Kayani
Washington, February 27
Pakistani Chief of Army Staff (COAS) Gen Ashfaq Parvez Kayani, who is currently on a US visit, pledged to keep his country's armed forces out of politics, asserting that the Army would not intervene in a crisis.
26/11 lawyer fired
Islamabad, February 27
Pakistan President Asif Ali Zardari today fired the Special Public Prosecutor in the Mumbai attacks case, more than a week after the senior lawyer sparked a controversy claiming that Islamabad had formally requested India to hand over Ajmal Amir Kasab.
Protests in Pak continue
Islamabad, February 27
Pakistani security forces today fought running battles with PML-N party activists protesting against the Supreme Court verdict barring its chief Nawaz Sharif and his brother from contesting polls, as the country faced a political deadlock over the issue.
Nepal declares 8,000 martyrs
The Unified CPN (Maoist)-led coalition on Friday decided to declare around 8,000 people, who were killed during the decade-long Maoists insurgency, as martyrs of the country.
Tamil Civilians
Lanka to prevent 'collateral' damage
Colombo, February 27
Sri Lankan President Mahinda Rajapaksa said his government was committed towards preventing "collateral" damages to Tamil civilians as the war to crush the LTTE reaches the final stages.
Tigers keen to safeguard 40 top cadres
The Sri Lanka military said the LTTE was putting up stiff resistance as it wanted to safeguard around 40 of its top leaders from being killed in the fighting as troops closed in on the last remaining stronghold of the Tigers in the northern Mullaithivu district, a government minister said on Friday.