Abandoning of Refugees
UN shedding responsibility, say Tamil Tigers
Colombo, February 17
Sri Lankan Tamil Tigers (LTTE) today countered UN accusations of them shooting down civilians fleeing the war zone in the north, saying that the world body had abandoned the Tamil refugees.
Displaced Tamils cared for: Rajapaksa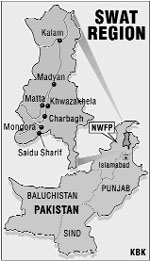 Sufi on Swat peace mission
With President Asif Zardari linking his final approval for the agreement on the Nizam-e-Adl Regulation to restoration of peace in the troubled Maland/Swat region, a delegation of the militant Tehrik-e-Nifaze Shariah Malakand and a delegation of Tanzim Nifaz Shariat-e-Muhammadi (TNSM) led by its chief and the main signatory Maulana Sufi Muhammad on Tuesday reached the Swat valley to fulfil their promise of restoring peace. TNSM spokesman Ameer Izzat Khan told newsmen on arrival in Mangora, capital of Swat district, that Sufi would remain in here till the end of violence in the valley. During his stay in Swat, he will convince the pro-Taliban rebel and his son-in-law Maulana Fazlullah to renounce militancy after the enforcement of Nizam-e-Adl Regulation. Khan said Sufi would hold public gatherings in the valley to persuade the people, particularly those who had picked up arms, to stop fighting and have faith in the government commitment to enforce shariah.
Pak approves regional task force
Pakistan has signalled interest in the Dhaka-proposed South Asian Anti-Terrorism Task Force, according to Pakistan President Asif Ali Zardari's special envoy Mirza Zia Ispahani. But he said Islamabad thought it was not a good idea to hold a special war-crime tribunal, as announced by the government, to try individuals who have allegedly committed war crimes during the 1971 war.
Call to stop auction of Bapu's belongings
Dubai, February 17
An Indian organisation in Bahrain has expressed displeasure over the news of Mahatma Gandhi's possessions, including his steel-rimmed glasses and leather sandals, going under the hammer in the US next month.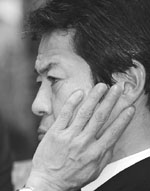 Nakagawa not to quit over 'drunken act'
at G-7
Tokyo, February 17
Japanese Finance Minister Shoichi Nakagawa vowed to stay today after his wobbly behaviour at a press conference in Rome on Saturday drew fire.



Japanese Finance Minister Shoichi Nakagawa waits for the opening of the budget committee session at the National Diet in Tokyo on Tuesday. Earlier in the day, Nakagawa said he would resign after denying being drunk at a G-7 meeting in Rome where he was incoherent and slurred while speaking. — AFP
Youth mental illness costs US billions
Washington, February 17
Mental illness, substance abuse and behavioral problems among children and young adults, costs the US $247 billion a year in treatment and lost productivity alone, an expert panel has said.
France admits role in Holocaust
London, February 17
France has for the first time accepted its role in the Holocaust, acknowledging that it "willingly" deported thousands of Jews to their deaths in concentration camps during World War II.
Taliban targeting Swatis in US for ransom: Report
New York, February 17
Pakistani immigrants from the Swat valley have alleged that some of their families were being singled out for threats, kidnapping and even murder by Taliban forces, who view them as potential US collaborators and lucrative sources of ransom, a media report said today.