| | |
| --- | --- |
| Holi is all ha ha, hee heeA group of youngsters enjoy 'Holika Dahan' at Mata Sundari Road in New Delhi on Tuesday | Children spray colours on a passing bus Tribune photos:Manas Ranjan Bhui |
Cops set to check Holi hooliganism
Noida, March 10
The Noida police claims to have made adequate security arrangements for Holi. The police will particularly keep an eye on drunk revelers who create nuisance on roads.
Clarify status of DDA flats, Goel tells govt
New Delhi, March 10
It seems that BJP national general secretary Vijay Goel has been given the party's nod to contest from New Delhi constituency. Goel had organised a meeting in Punjabi Bagh today. Punjabi Bagh has become a part of New Delhi after delimitation.
No parking for East Delhi's biggest sanitary market
New Delhi, March 10
"We are not fools that we will pay a penalty of Rs 500 every time the Delhi traffic police picks our car for being parked on road. There is no parking space here, and so we have no choice but to park our vehicles on road," said a regular visitor to Jagatpuri market.
Mughal Gardens open for differently abled
New Delhi, March 10
After offering a scenic feast for over a month, the Mughal Gardens, basking in royal glory, is all set to have an exclusive rendezvous with the differently abled people of the Capital from March 12 to 15.
Study on saving fuel
New Delhi, March 10
The Indian Institute of Technology, Delhi, and the Petroleum Conservation Research Association (PCRA) have initiated a two-year study on saving fuel and ways to achieve better traffic management. The study will assess fuel emission by vehicles under different driving conditions and ways to save fuel in Delhi and Mumbai. The research will focus on assessing the current status of fuel emission and consumption by vehicles in different driving conditions and the impact of traffic management strategies on emissions by vehicles and the fuel economy.
Book fest at IHC from March 12
New Delhi, March 10
A weeklong book fest will start on March 12 at the India Habitat Centre (IHC) here.
On 50th uprising anniversary, Tibetans fast for 50 hours
New Delhi, March 10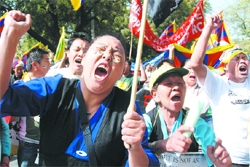 Hundreds of Tibetans marched in the capital today shouting "Free Tibet" slogans and a majority among them began a fast for 50 hours, 50 minutes and 50 seconds to mark the completion of five decades of the Tibetan uprising against China.



Tibetan activists protest on the 50th anniversary of Tibetan uprising against Chinese rule, in New Delhi on Tuesday. Tribune photo: Manas Ranjan Bhui
World Kidney Day on March 12
Just 2.5% patients in kidney failure get transplants
New Delhi, March 10
As many as 90,000 kidney transplants are required per year. 0nly 2.5% of the patients receive transplants, while an overwhelming majority need dialysis (in the absence of a renal transplant). Only 22.5% of the patients receive dialysis .
Gurgaon gets 300 cases daily
Gurgaon, March 10
The millennium city gets more than 300 cases of chronic kidney disease (CKD) every day and the country develops about 1.2 lakh kidney patients every year who need transplantation and dialysis. The number is nearly one billion worldwide.
Most Tihar inmates belong to minority communities
New Delhi, March 10
A large number of inmates in Tihar Jail belong to the minority communities and most of them are Muslims. They have been languishing in the jail as they do not have enough financial support for litigation, sources said.
Minor raped by RWA president
New Delhi, March 10
A 15-year-old girl has alleged that she was raped by president of Residents Welfare Association (RWA), Avantika Enclave in the Mangolpuri area of Outer Delhi.
Bikers take daughter captive, rob mother
Noida, March 10
Two bike-borne bandits robbed a woman by taking captive her eight-year-old daughter late on Sunday evening in Noida's Sector-28.
Ailing man commits suicide in Delhi
New Delhi, March 10
Depressed with prolonged sickness, a 45-year-old man set himself on fire after pouring kerosene today morning in the Sabzi Mandi area of North Delhi.
Free eye camp
New Delhi, March 10
On the occasion of World Glaucoma Day on March 12, the Glaucoma Society of India is organising free eye check up camps in all major cities of the country.