Meltdown Effect
DU students placed as trainees, not executives
New Delhi, March 18
Despite a heavy global recession on and no jobs available in the job markets, Delhi University students are smiling. There has there been a substantial increase in the number of internships and trainee posts being offered to DU students at the varsity despite an over-all reduction in the number of companies coming to DU for placements this year.
ABVP cadre beats student in JNU
Abuse on communal lines alleged
New Delhi, March 18
During a cultural event in JNU's Lohit hostel, a student belonging to a minority community was allegedly beaten up by the cadre of Akhil Bhartiya Vidyarthi Parishad (ABVP) last night.

Code violators not to be spared: Dadwal
New Delhi, March 18
The Delhi police has registered a total of 233 cases related to defacement of public property this election season. Addressing a press conference in the city today, Delhi police commissioner Y.S. Dadwal said the police would continue vigil in the strictest sense and anyone found breaching the election code of conduct would not be spared.
Call 1095 for traffic woes
New Delhi, March 18
For any traffic related problem in the capital call 1095. "A four digit number has been allotted to Delhi traffic police and commuters can easily get in touch with the traffic police," Delhi police commissioner Y.S Dadwal told reporters.


6 RJD leaders join Cong
New Delhi, March 18
Delhi unit general secretary of the Rashtriya Janata Dal (RJD) Parmanu, executive committee member Anu, North West district president Aleem Ahmed, Timarpur assembly constituency president Mohammad Mumtaz Alam, North West district general secretary Manazeer Hassan Khan and Avdesh Jha with hundreds of party workers joined the Congress in presence of DPCC chief Jai Prakash Agarwal today.
DPCC chief J.P.Aggarwal offers sweets to RJD Delhi gen. secretary Parmanu. Tribune photo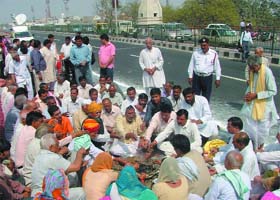 People perform hawan on the Dwarka flyover where accidents have claimed eight lives, in New Delhi on Wednesday. Tribune photo
BSP to woo Muslims
New Delhi, March 18
The Bahujan Samajwadi Party (BSP) will ensure this time that the Muslim voters do not get influenced by rival parties, a factor which became a cause for its poor performance in Delhi assembly elections.
West Delhi: Cong to field a Punjabi, BJP a Jat
New Delhi, March 18
Many senior Congress leaders are seeking ticket for West Delhi parliamentary constituency that was earlier considered tough for the party. While the BJP is planning to field a Jat leader from the West, the Congress has decided to field a Punjabi or Sikh.
Constituency Profile Chandni Chowk
Punjabis, traders key voters now
New Delhi, March 18
A tough task lies in store for party poll managers in Chandni Chowk constituency post-delimitation. Delimitation has greatly changed the socio-political profile of the area and thus has washed the traditional vote bank.


PETA protests animal tests
New Delhi, March 18
People for the Ethical Treatment of Animals (PETA) today held a mock funeral procession at Jantar Mantar here to protest against the barbaric marketing strategies of cosmetic players and relentless brutality endured on innocent animals, whose fates are sealed once they enter the cosmetic-testing labs.
PETA activists protest against cosmetic tests on animals in New Delhi on Wednesday. Tribune photo: Mukesh Aggarwal
Woman, son killed in accident
New Delhi, March 18
Two members of a family were killed while two were critically injured when a speeding truck hit their motorcycle on Ring Road near the Libaspur area in Outer Delhi last night.
Suicide bid by family of 7
New Delhi, March 18
A family of seven members attempted suicide by consuming some poisonous substance in Shanti Nagar locality of Keshavpuram in north west Delhi. The family has been hospitalized and undergoing treatment at Bhagwan Mahavir Hospital where their condition is said to be critical.
Hooch snuffs out two lives
New Delhi, March 18
Two persons were killed while two fell ill after consuming hooch in Dabri last night. Although local residents claimed that 10 people have been killed after consuming hooch in the past two days, police denied and said that only three such incidents were reported.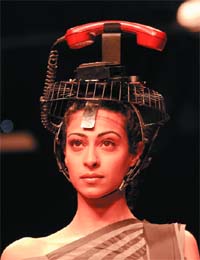 A model presents a creation by designer Nitin Bal Chauhan during the Wills India Fashion Week (WIFW) in New Delhi on Wednesday. The Wills India Fashion Week runs from March 18-22. Tribune photo: Manas Ranjan Bhui
Jewellery robbed at gunpoint
Greater Noida, March 18
Five armed bandits allegedly intruded in the house of a trader and robbed Rs 1.5 lakh, including Rs 50,000, jewellery and other valuables at gunpoint at Railway Road Dadri. The bandits had beaten up trader Dinesh Goel, his wife and son. A theft case has been registered.
2 engineers of DDA held for taking bribe
New Delhi, March 18
The CBI arrested two engineers of the DDA for allegedly accepting a bribe of Rs 1,00,000, an official statement said today. The CBI acted on a complaint of a shareholder of a real estate firm. The firm had purchased three commercial plots at Sector 9, Dwarka, from DDA in an auction in January 2007.
Man thrown from moving train
Greater Noida, March 18
A man travelling in Delhi-Howrah Mail was attacked by some goons in the train this evening. The assailants allegedly tried to burn him after beating him up. The police said the youth was later thrown out of the moving train as it passed the Greater Noida area.
Student commits suicide
New Delhi, March 18
An 18-year-old medical engineering aspirant allegedly committed suicide by hanging himself from the ceiling fan in his house in Sawroop Nagar area of north-west district today around 3:30 pm.
College of Art to offer five new courses
New Delhi, March 18
College of Art will introduce five courses this year. The announcement was made at the 56th Annual Art Exhibition of the college.