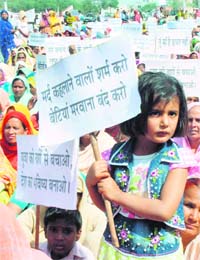 A girl leads a protest rally against female foeticide and drugs organised by the Youth Welfare Federation in Karnal on Wednesday. Photo: Ravi Kumar
BJP Ticket to Swami
RSS raises banner of revolt
Karnal, March 18
The BJP-RSS rift over the allocation of the ticket for the Karnal Lok Sabha seat to former Union Minister of State for Home ID Swami has started surfacing in a major way with a dominant section of the RSS dead set to oppose his candidature.
Beacon trouble for MP
Fatehabad, March 18
Atma Singh Gill, Member of Parliament from Sirsa, finds himself in the dock after he was found campaigning in the Ratia area of this district with a red light atop his vehicle.
CPM keeps options open
Sirsa, March 18
The CPM is open to the idea of forming an understanding with political parties other than the Congress and the BJP-INLD alliance in the forthcoming Lok Sabha elections in Haryana.
Venues identified for holding poll meetings
Karnal, March 18
Twenty-seven places have been identified for holding election meetings in Karnal district during the Lok Sabha polls, Deputy Commissioner, Karnal, Chander Prakash today said.
Fake IPS officer arrested
Had lured varsity lecturer into marriage
Sirsa, March 18
A charlatan, who married a girl by posing himself to be an officer of the Indian Police Services, has been arrested by the police for alleged cheating, forgery and rape.
Two get life term for murder
Rewari, March 18
Additional Sessions Judge Sudesh Kumar Sharma has sentenced Pramod Mandal and Shiv Nandan, both residents of Jharkhand, to imprisonment for life, holding them guilty of the murder of a local taxi-driver Pooran Mal in August, 2005.
Use public as eyes, ears: DGP to SPs
Yamunanagar, March 18
With a view to strengthening the intelligence network in the state, Director-General of Police (DGP) RS Dalal has directed all SPs of the state to follow the Delhi police method of using public as eyes and ears of the police for collection of criminal intelligence and to fight against terrorism.
Villagers to boycott LS poll
Gurgaon, March 18
Residents of Gurgram village, also known as Gurgaon, are not interested in casting their vote to any party in the coming Lok Sabha elections.
530 students awarded diplomas
Gurgaon, March 18
As many as 530 students were awarded diplomas at the 14th annual convocation of the Management Development Institute (MDI) here today.
Swimming banned in canal
Sonepat, March 18
Following the death of three youths due to drowning in the Delhi branch of West Yamuna Canal on Sunday last, Deputy Commissioner Ajit Joshi has imposed a ban on swimming, taking bath and washing of clothes in the Delhi branch as well as in the Parallel Link Canal with immediate effect.
Lensman bags coveted award
Chandigarh, March 18
A city-based amateur photographer Subhash Sapru has won the Judges' Choice Award at the ongoing International Photo Travel Circuit of three exhibitions organised by the Delaware Valley Council of Camera Clubs in the USA.
Probe sought
Chandigarh, March 18
A probe by the CBI was today sought into selections by Haryana Staff Selection Commission (HSSC). The petitioner, Mukesh of Jind, claimed chairman Brig NL Poonia had made "the selection on extraneous consideration".