It is SAD vs Congress in Bathinda
Chandigarh, March 28
With the Badal family nominating Deputy Chief Minister Sukhbir Singh Badal's wife Harsimrat Kaur as Shiromani Akali Dal (SAD) candidate from Bathinda, the SAD is set to make Harsimrat's first visit to the city after getting party ticket a show of strength. The Congress is getting ready to give a similar reception to candidate Raninder Singh, son of former Chief Minister and party's campaign committee president Amarinder Singh.
'Cong playing up Varun's speech for minorities' votes'
Hoshiarpur, March 28
The Congress had been raising Varun Gandhi's issue to appease minorities for seeking their votes in the Lok Sabha (LS) elections. National BJP secretary Kiran Ghai stated this to journalists at the residence of the SAD-BJP alliance nominee Som Parkash for the Hoshiarpur LS seat here this afternoon. She said the Congress always followed the divide-and-rule policy to remain in power, so people of the country had been divided on communal lines. It always exploited the minorities for votes.
PPCC meeting on March 31
Chandigarh, March 28
Mohinder Singh Kaypee, president, Punjab Pradesh Congress Committee (PPCC), has called an emergency meeting of the PPCC general house comprising office-bearers, executive members, DCC presidents, MPs, ex-MPs, MLAs, party candidates for the last Vidhan Sabha elections and heads of frontal organisations and cells at the Punjab Congress Bhawan here on March 31 at 11.30 am to discuss the preparations for the 2009 LS elections.
— TNS
Dy CM promises more development
Mansa, March 28
Deputy Chief Minister Sukhbir Singh Badal said at Sardoolgarh today if the National Democratic Alliance (NDA) was voted to power and SAD candidates elected to the Lok Sabha, more funds and schemes would become available to the state for development. He said mostly Congress governments had ruled the country and Punjab remained as ignored. On more rights for states, he said the SAD would put its agenda when the common minimum programme would be prepared by the NDA. The Deputy Chief Minster said only SAD governments started development in the state and Congress governments did not care towards development.
Complaint against Longowal for holding grant, probe ordered
Sangrur, March 28
In a serious complaint sent today to the Election Commission (EC) of India, president of the Longowal Municipal Council (MC) Mela Singh alleged that Chairman of the District Planning Committee Gobind Singh Longowal had been keeping a cheque of Rs 1 crore in his possession, issued by the state government to the Longowal MC for undertaking development works.
Political leaders' new address — slums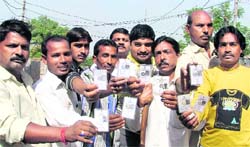 Ludhiana, March 28
Come elections and slum dwellers of the city, who are otherwise kicked for encroachment, suddenly become cynosure of all political leaders' eyes.




PRIZED POSSESSION: Slum dwellers with their voter ID cards in Ludhiana on Saturday. Photo: Inderjeet Verma
3 claimants to MP seat are plus 2, one doctor
Anandpur Sahib, March 28
Three out of four claimants to the seat of Member of Parliament (MP) from Anandpur Sahib constituency are senior secondary pass. The SAD-BJP candidate remains the only highly educated candidate with an MBBS degree.
Rajewal group still undecided
Jalandhar, March 28
The Bharti Kisan Union (Rajewal) will hold its general house meeting from March 30 to April 1 at Nabha to decide which party it should support in the forthcoming Lok Sabha elections in the state.
Delhi govt not to oppose Kukki's plea
Ludhiana, March 28
Delhi Chief Minister Sheila Dikshit today said her government was sympathetic towards Kukki, who was facing life imprisonment for the murder of Lalit Makan and his wife. She said since the model code of conduct had been imposed in the country, anything on parole would be decided after the elections by the review committee. She made it clear that her government would not oppose Kukki's plea.
Liquor cartel in Punjab
'Give details of proposed action'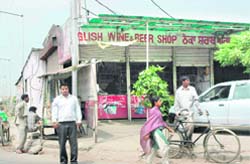 Chandigarh, March 28
After the issue of liquor cartel's reported existence in Punjab was brought to the Punjab and Haryana High Court's notice, a Division Bench wants to know what action the state proposes to take to remedy the situation. The observation by a Division Bench of Chief Justice Tirath Singh Thakur and Justice Hemant Gupta follow a petition that has been filed by MLA Harmohinder Singh and another on allotments of vends.
Body condemns fresh interviews of teachers
Ludhiana, March 28
The Science Mistresses' Association has taken exception to the decision of the Punjab government to order fresh interviews of science mistresses and sought the withdrawal of the notification issued in this regard.