PUNJAB
HARYANA
JAMMU & KASHMIR
HIMACHAL
REGIONAL BRIEFS
NATION
OPINIONS
LETTERS
BUSINESS
SPORTS
WORLD
Hisar gets knowledge centre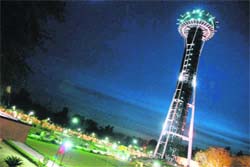 Hisar, April 2
The Om Parkash Jindal Knowledge Centre here has been opened to the public. The centre has been established in memory of industrialist-turned-politician OP Jindal

The Om Parkash Jindal Knowledge Centre in Hisar. Photo: Subhash Kumar
It's campaigning of different kind
Chandigarh, April 2
As the election fever intensifies, politics and politicians are on everybody's mind. It's been campaigning of a different kind this time, without a candidate and in the name of the political party.
IOC to expand pipeline network
Panipat, April 2
Buoyed by the encouraging results of using pipeline network to transport fuel, the Indian Oil Corporation has decided to expand its network to about 1,200 km by June next year. The expansion will enable the corporation to transport an additional 10 million tonne of fuel each year. At present, the IOC transports 70 million tonne of fuel using its existing pipeline networks.
Ticket war exposes fissures in Cong
March 31, 2009
Slowdown likely to hit campaigning
March 27, 2009
Neglect has historical cannon in ruins
March 24, 2009
Delimitation leaves politicians guessing
March 20, 2009
Mayawati dashes HJC's tie-up hopes
March 17, 2009
Over 1.2 csr to cast vote in state
March 13, 2009
EC's directive elicits lukewarm response
March 10, 2009
State jails in a mess
March 6, 2009
Legislation to ban saathi sowing
March 3, 2009
Paperless police station to come up in Gurgaon
February 24, 2009
Reading cells to be set up in govt schools
February 20, 2009
CAG finds food and supplies dept guilty
February 17, 2009