Apollo group's information centre set up
Anil Jerath
Tribune News Service
Bathinda, April 5
The Apollo Hospitals, Asia's largest healthcare provider, has now included the Nova Heart Hospital, a unit of the Nagpal Superspeciality Hospital, Bathinda, as a part of the Apollo information centre/visiting cath labs here today for the benefit of patients hailing from the Malwa region of the state.
Patients, who wish to consult specialists of the Apollo Hospitals at Bathinda, could now fix up appointments through the 24-hour information centre. Other relevant information such as the treatment procedures, the cost of treatment and boarding and lodging facilities could also be had from the centre free of cost.
Briefing media, Dr G.S. Nagpal, managing director of the Nova Heart Hospital, said, "We have always striven to provide the very best healthcare facility to the people of this region and this tie-up would help us in taking this endeavour further in a more professional and efficient manner."
On the rationale behind opening the centre R. K. Raina, senior manager, marketing, Apollo Hospitals, stated that they have chosen the Nova Heart Hospital because of their commitment to provide best possible healthcare to the people.
"Besides providing super specialist consultations at the doorsteps of the people of the region, the hospital would provide valuable information about treatment and also facilitate the patients, he added.
He further said many patients encountered difficulties in getting accustomed to the metro cities and the centre would provide relevant information beforehand to avoid inconvenience to them.
Dr Rajeev Rajput, senior consultant, interventional cardiologist, Apollo Hospitals, New Delhi, while speaking to media, said heart diseases were increasing day by day and this tie-up would be helpful to the patients by providing cardiac consultation and cardiac procedure in their city itself.
The hospital patients who have to get follow up treatment could also make use of the information centre. Tele-medicine facilities are to be introduced shortly for this purpose. Specialists of the hospital would also visit the centre periodically to conduct outpatient camps and diagnose the patients.
New service to update farmers on crop price, weather
Anil Jerath
Tribune News Service
Bathinda, April 5
The Mahyco, the pioneering Indian seed company which commercialised insect-tolerant Bt cotton hybrids, today teamed up with the Reuters Market Light (RML) for another first. Now, it would distribute RML, a service that would provide farmers of Punjab and Haryana with personalised information pertaining to crop prices in local markets, weather forecasts and relevant news besides crop advisory information in local language via SMS messages.
Giving information, Raju Barwale, managing director, Mahyco, said the company had taken the initiative to provide farmers with personalised market-relevant information through RML because in the seven years since Bt cotton was approved for release by the Indian government, farmers had revolutionised cotton production in the country thereby doubling it from 136 lakh bales in 2003-04 to 315 lakh bales in 2007-08.
Amit Mehra, MD, the RML, claimed that the new service would help farmers to enhance their crop yields and improve their production over a wide range of produce, including onion, cotton, soybean, pomegranates and kinnows.
Also, the Government of India actively supports the RML service, he added.
"Since its launch in October 2007 in Maharashtra, the RML had sold nearly two lakh quarterly subscriptions. Farmers had reported significant financial benefits within few weeks of using RML," Mehra informed. "It is driven by the need for information in the farming community and the rapid rise of mobile penetration in India which is accessible and affordable to the farming community," he said.
Workers from Rajasthan step in as NREGA checks cow belt migration
Rajay Deep
Tribune News Service
Bathinda, April 5
The harvesting season has begun but the migrant labour from Bihar and Uttar Pradesh, unlike in the past years, has not landed for the assistance this time. Till now, only Rajasthani labour has arrived in this district.
During an interaction with a large group of labourers working at village Jeewan Singh Wala, who had come from Pali area in Rajasthan, it was observed that they had come just due to the necessity of wheat, which they cannot get in their region. They said in their area water level was too low to produce wheat. So they had come here bearing huge travelling expenses.
In the previous season, it was observed that due to implementation of the National Rural Employment Guarantee Scheme (NREGS), a small number of labouers from Bihar and UP had come here, as they had got jobs in their own states.
Recalling the past experiences of labour shortage, farmers of the region have already started booking the labourers in advance to avoid such situation.
"We are a total of 26 members in family, who have been reaping the crop here in this 12 acre field. After here, we will move to the adjacent chunk of the field, as 'Sardarji ' had already booked us for that," an elderly labourer Boota Singh said.
Another labourer, Rana Sabu Chaudhary said, "We stay here for a month and after the harvesting season will return to our village in Rajasthan to reap bajra and get other jobs also."
The farmer, Jagsir Singh of village Jeewan Singh Wala, whose field was being harvested, said, "No labourer is free nearby as most of them are busy in laying road and construction related works. Now labourers from Bihar and UP are not interested in coming here, so we have been finding these Rajasthanis to be the only assistance for us because we alone cannot reap the whole area on our own."
On being asked about the use of Combine harvester he said, "We never go for that machine considering its demerits, as it spoils much quantity of grains and also leaves stubble in the earth."
About the charges being paid to them, he said, "Now we cannot negotiate with them much, as understanding the labour pang, they too have started taking stand on their demand. They take 1.2 quintal wheat for reaping one acre. In a day, they all including women collectively reap total three acre of crop. Other than this we have to bear their milk and sugar expenses and also provide shelter at our own house."
Drain water brings high crop yield, poor health
Farmers harness toxic sludge in Lisada drain to irrigate fields but queries over public health remain
Rajay Deep
Tribune News Service
Bathinda, April 5
Absence of canal water and unsuitability of groundwater have left hundreds farmers of this cancer-prone district with no other option but to irrigate their fields with the toxic sludge flowing in a drain which passes through their villages here.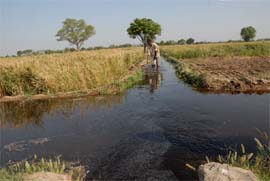 A farmer irrigates his field with the toxic sludge flowing in the Lisada drain, which passes through the village. Tribune photo: Malkiat Singh
The effect of crops irrigated with toxic waste can be observed in symptoms like plaque on teeth, joint pain and grey hair in the villagers.
Whether it is wheat, cotton, paddy, vegetables or any other crop, farmers of villages Kotbhara, Kot Bakhtu, Kotfatta, Ramgarh Bhunder, Chathewala, Jeewan Singh Wala, Shergarh, Mallwala, Kaile Bandar, Chak Ruldu Singh Wala, Pathrala, Manak Khana and others, located along the banks of the Lisada drain near Bathinda, have been using this dirty, stinking, toxic black water for about two decades to irrigate their crops.
The drain carries sludge and waste of factories located in Barnala district. Shockingly, while crossing Bathinda district, the drain becomes dry as almost the whole of the water gets used in agricultural fields.
During a recent visit to some such villages, it was observed that despite awareness about the adverse effects of the irrigation practice, the officials were not taking adequate steps to rectify the situation.
The official apathy is evident from the fact that farmers, pooling money, have installed motors pumps along the banks of the drain, from where they lift the water that is supplied through kilometers long steel and cemented pipes buried beneath the earth, to the agricultural fields.
Narrating his plight, Satwant Singh, an elderly farmer of village Kotfatta, said, "This water stinks, so it is obvious that it would be leaving its harmful effect on crops also. Taking precautions, we sell whatever we produce in the market and buy canal irrigated yield of crops for our own consumption."
Showing the carrots sown in his field for self consumption, Balwinder Singh of village Kotbhara said, "The crop will get spoiled if I do not sell it in the market as my grandchildren have clearly refused to consume it as it has been irrigated by this muck." "Harsimrat Kaur Badal, the SAD (B) candidate for Lok Saha elections came to a nearby village but when we were about to inform her about the problem, a leader, who was acting as her guide, flipped the issue saying that it was farmers who use the drain water of their own will due to its high productivity," alleged Jaswant Singh of Kotbhara.
Civil Surgeon, Bathinda, Neelam Bajaj said, "The task to check the water and its effect on crops is to be done by the agriculture department. Moreover, the laboratory tests are very expensive but soon, we will try to get some of the crops examined, considering the public health." Replying to a query, Chief Agricultural Officer, Bathinda, Paramjeet Singh Sandhu said, "To check the menace, we had requested the Punjab Agricultural University authorities. But so far, no response has been received." "When the crop is harvested this time, we will take samples to get it examined," he assured.
DC, Bathinda, Rahul Tewari said, "Till now, no formal complaint has come to me regarding this. So I cannot visit and check the crop and the water on my own. But if somebody lodges a complaint, then we will take immediate action."
Raninder predicts fall of Badal govt after LS polls
Our Correspondent
Mansa, April 5
"The survival of the SAD-BJP government for long appears to be impossible after the Lok Sabha elections as senior Akali leaders have been leaving the party due to dissatisfaction with the wrong policies of chief minister Parkash Singh Badal and deputy chief minister Sukhbir Singh Badal," said Raninder Singh, Congress candidate from Bathinda constituency, while addressing public meetings at different villages in Mansa today.
He further said that all sections of the society are not happy with the performance of the state government because SAD-BJP government could not fulfill its promises, which were made during the Assembly elections.
Raninder appealed to the people that they had an opportunity to give a befitting reply over the atrocities of SAD-BJP government. Raninder lauded the performance of Manmohan Singh led Central government for launching many policies for the welfare of farmers, employees and poor people.
He addressed public meetings at Pairon, Autawali, Matha, Bajewala and Jhuneer.
Meanwhile, hundreds of Akali workers today joined the Congress party in the presence of Raninder Singh.
Congress MLA Ajitinder Singh Moffar, youth leader Gurpreet Singh, Bikram Singh Moffar and Jeevan Dass Bawa also spoke at the meetings.