Self-help groups dwindling away
To make these groups a success, the programmes need to concentrate on group viability and group strength. A new situation is emerging with groups getting defunct as soon as these are formed
Neena Sharma
Tribune News Service
Dehradun, April 10
Created to provide sustainable income to the rural poor while building upon their potential entrepreneurial activities, Self-Help Groups (SHGS) in six blocks of Dehradun district have become excessively target-driven, failing to accomplish the goals of micro enterprise.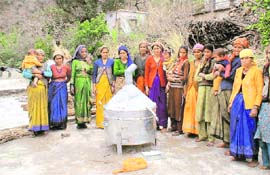 A women's group in Chhamroli village in Raipur block of Dehradun. A Tribune photograph
Bank linkages primarily created to help groups access easy loans after a period of grading is proving to be detrimental in the longevity of the groups that fail to grasp long-term goals of shared activity and building upon a small-scale enterprise.
Personal goals gain ascendancy over group goals, a major reason for the groups becoming inactive and defunct. So far, the aim to link these groups to banks as a low-cost option to mainstream delivery systems of financial services for the poor has been partly successful in the district.
Borrowing heavily from Gramin Bank, a micro enterprise scheme pioneered by Nobel laureate Mohammmed Yunus for the poor, rural families, self-employment through small enterprises under the Swaranjayanti Gram Swarozgar Yojana (SGSY) was started in April 1999 in Uttarakhand and the rest of the country.
The aim of the scheme was to stop migration of rural youth from villages to towns and provide sustainable income to the rural poor with capacity-building activities.
As of now, there are 832 self-help groups functioning in six blocks of Dehradun district. In Raipur, the number is 169, in Chakrata 2 76, Kalsi 199, Doiwala 317, Vikas Nagar 457 and Sahaspur 404. The total number of groups that have become defunct after their constitution in 1999 are Raipur-71, Chakrata-117, Kalsi-82, Doiwala-99, Vikas Nagar-230 and Sahaspur-139.
Most groups are engaged in dairy farming as a majority of villagers are engaged in farming activities.
"For want of any large-scale cluster-level activities in the district, the District Rural Development Authority had to rely on dairy farming, a popular activity in the district. So, 70 per cent of the groups have dairy farming as their core activity.
The Vikas Nagar and Sahaspur groups are performing well. "Through these groups, women and men are encouraged to save and adopt thrift and credit practices and then become self-employed," said Hemanti Gunjiyal, project director, DRDA.
The members after forming groups can practise internal lending, thereby sharpening their business acumen. The groups have well-defined rules/bylaws, hold regular meetings and maintain records of savings and credit.
The members are eligible for a cash credit limit. Under the plan, a group is given Rs 10,000 per member and a maximum of Rs 1.25 lakh, while Rs 25,000 in the form of government/bank loan is made available as revolving fund after six months.
"Upon qualifying the second grading, bank financing for the economic activity indicated by the groups is facilitated.
" This encourages backward-forward linkages and also paves the way for fund utilisation by banks.
"Slowly, the group proceeds from consumption to production and becomes its own master," explained chief development officer SC Badoni.
While the groups comprise men and women, the DRDA authorities say that experience shows that women are more capable of returning loans than men and more driven towards family needs, rather than their own.
In Bajawala village of Doiwala, a 15-member women group has managed to bring about a qualitative change in their lives. They have adopted modern diary farming activities.
"The earnings through dairy farming are being utilised for giving good and quality education to our children. Our family members and even villagers accord us respect. We have benefited from the credit and training facilitated by the DRDA. Each member earns between Rs 2,000-Rs 2,500 per month. From a loan of Rs 12,50,000, as much as Rs 1,19,000 has been paid back," said Neelam Devi president of the group. The 15-member group that took the first tentative step by opening savings accounts at the local PNB bank in 2001 aims high and plans to broaden the sphere of its activities.
Despite a few successes, officials say the situation can improve dramatically if there is a ceiling on the number of these groups, say 100 groups in five years.
Monitoring carried out by gram panchayat officers has been faulty as most are ill-equipped for the task.
To make self-help groups a success, the programmes need to concentrate on group viability and its strengths. A new situation is emerging with groups getting defunct no sooner as these are formed.
"Besides, it is now clear that social empowerment does not always pave way for economic empowerment," said Chhaya Kunwar, programme coordinator, Himalayan Action Research Centre (HARC).