Weathering the tourist storm
With the state being most vulnerable to sudden weather changes, which can at times endanger the lives of tourists, the Met department plans to install automatic weather stations at important tourist places and at 17 rest houses
SMA Kazmi
Tribune News Service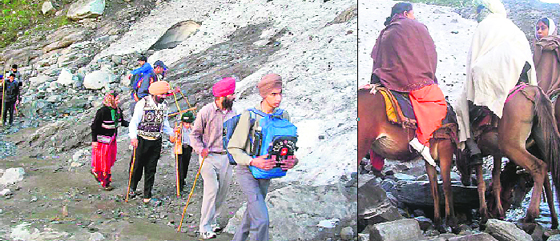 Pilgrims on way to Hemkund Sahib in Chamoli district. Tribune photos: Anil P Rawat
Dehradun, April 19
The annual Char Dham yatra is scheduled to start from April 27 with the opening of portals of Kedarnath Dham followed by Badrinath, Gangotri and Yamunotri.
The yatra attracts lakhs of pilgrims every year. Around the same time, lakhs of tourists arrive in the state to enjoy its cool climes.
Since most tourist places are located in the hills, weather invariably remains a
topic of interest.
In order to strengthen the network of meteorological observatories in Uttarakhand for providing accurate weather bulletins to tourists and pilgrims, the Met department has begun a unique initiative.
A brianchild of Dr Anand Sharma, director of the Meterological Centre, Dehradun, the department plans to install automatic weather stations at important tourist sites.
"The state is most vulnerable to sudden weather changes which could endanger the safety of the tourists. So we decided to provide accurate and real-time weather information to them," said Dr Sharma.
To overcome red tape, he met minister of tourism Parkash Pant and stressed on the utility of such a project and the resultant gain to the tourism sector.
Pant agreed to automatic weather stations at 17 tourist rest houses in the
state. These locations were given the green signal by the Met department
with headquarters at New Delhi and Pune.
Neeraj Semwal, chief managing director, and Jugal Kishore Pant, MD of the
government-run Garhwal Mandal Vikas Nigam (GMVN) gave the no-objection
certificate for installing these weather stations at 12 guest house of the nigam
that looks after tourism in the government sector.
The mandal has agreed to make space in its guest houses for automatic weather stations with special reference to popular tourist places.
"We have given the nod to the department and submitted names of the staff that would coordinate the project in different guest houses," said Semwal.
Uttarakhand has a tremendous tourist potential and several important tourist places. But the fragile Himalayan eco-system poses many challenges and the extreme weather can play spoilsport. It could even pose danger to life and property.
Therefore, correct and timely location-specific weather forecast becomes important. For this, there was a need for a well-connected network of observatories.
Weather has in the past led to deaths of tourists coming to the state for adventure sports with the monsoon period coinciding with the tourist season.
In February this year, a group of college girls from Ghaziabad on an excursion to Nainital and nearby hills were caught in a snowfall. One of them died of cold.
The most tragic incident occurred in August 1998 when more than a 100 pilgrims,
including the famous dancer Protima Bedi, on their way to Kailash Mansarovar
were buried alive in the Malpa landslides followed triggered by heavy rainfall in
Pitthoragarh district.
Seven pilgrims to Hemkundt Sahib were killed in 2008 in an avalanche in Chamoli
district. In the past nine years, many mountaineers on trekking expeditions in the
Himalayas, particularly in Chamoli and Uttrakashi districts, have died due to sudden
change in weather.
Last year, two group of trekkers who were trapped in snow could be saved only because the Met department had issued warning to the disaster management department of the state government and a rescue operation with the help of ITBP personnel was launched.
A porter lost his life but all other members of the expedition were rescued. The recent tie-up between the Met and tourism departments on location-specific weather forecast will be of immense help to the tourists as well as pilgrims.
It will help tourists plan their holidays and timely advisories will help them evade unfavourable weather conditions.
The automatic weather stations will have display panels installed in lobbies of guest houses for the benefit of tourists. Five nigam guest Houses in Uttarkashi, four in Chamoli district, two in Rudraprayag and one in Dehradun will have these automatic weather stations.
Plans are afoot for weather forecast of important tourist places and disseminate it through the nigam website as also through phone.
The Meteorological Centre plans to issue weather forecast for those on the Char Dham yatra beginning this year based on existing observatory network and models.
Under another project, The department plans to have automatic weather stations in all 13 districts of the state.
As of now, six districts -- Dehradun, Tehri Garhwal, Nainital, Uttarkashi, Chamoli and Rudraparag-- already have such stations.
It is also working on an automatic rain gauge in 26 subdivisions of the state. "We hope that these efforts will make Uttarakhand more safe for pilgrims as well as tourists," Dr Sharma added.